business
Daily Stock Market Affirmations: It's Not All Apple
By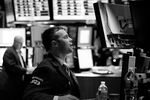 I am a loyal subscriber to the Leuthold Group's monthly green book, a smartly curated volume of market stats, jokes, and charts compiled by folks in Minnesota that ranks up there with Maxim and Soldier of Fortune for consistent reader engagement. The latest issue underscores how much stock market investors still lag, dating back to the old tech bubble on an inflation-adjusted level. In absolute terms, today's S&P 500 is not too far off its year-2000 peak of 1,527. And just a few weeks ago, we broke into an all-time high, if you include the lift of dividends. But factor in the ongoing hit of inflation—however tame it's been—and the market would have to rally to 2,009 (fully 45 percent higher than where it is now) to pass its peak of 12 years ago. (The S&P 500 briefly pierced that high in 2007, only to collapse into the Great Panic of '08.)
Yet more reason to close your brokerage account, right? After all, sans Apple, whose market value is $566 billion, what exactly would we be talking about right now? A bunch of bailed-out banks and declining big-box retailers? Oh, and Chipotle. "I've called this the NBA rally; it's Nothing But Apple," says Doug Kass, the Palm Beach (Fla.)-based founder of Seabreeze Partners. "Without Apple, earnings performance would be tepid and the stock market performance, though still pretty good, would have been reduced. Its dominance is extremely unusual." S&P 500 earnings for the three months ended Dec. 31 climbed 10 percent, data compiled by Bloomberg show. Take out Apple and it was 6.7 percent.
Take heart instead. "While Apple Inc.'s influence on the three-year bull market in American equities is among the biggest ever exerted by a single stock," writes Bloomberg's Whitney Kisling, "the rally would be doing just fine without it." According to data she crunched, Apple has accounted for 8 percent of the S&P 500's epic three-year ascent. "At the same time," she writes, "the S&P 500 has almost doubled since March 2009, even when Apple is excluded."
Ninety-six percent of the stocks that were in the S&P 500 back in March 2009 have since gained. Small- and mid-cap indexes are approaching records. And the Dow Jones Industrial Average, which perplexingly still doesn't include Apple, is just 9 percent away from its October 2007 all-time high. This is the broadest market advance since at least 1990, according to New York-based Holland & Co. Investors may never have been so disproportionately meh.
A decade of loss and more loss takes a long time to forgive.
Before it's here, it's on the Bloomberg Terminal.
LEARN MORE