Can the U.S. Postal Service Be Saved?
By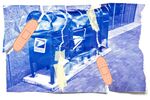 Tax day is traditionally a frenetic day for the U.S. Postal Service. But with over 80 percent of taxpayers filing online, April 17 became just another day in which the USPS's chronic problems were on display, with fewer post offices extending their hours to accommodate later filers.
Thanks to the Web, the economic downturn, and some stringent budgetary requirements, the U.S. Postal Service has been on a fast track toward financial insolvency for some time. Last year the USPS was in the red by about $5 billion. This year the service has continued to bleed money: In the first quarter, expenses surpassed revenues by $3 billion.
So can the Postal Service be saved? Tom Carper, the Delaware Democrat who sits on the Senate's Homeland Security and Government Affairs Committee, thinks he has a solution. Carper and Senator Joe Lieberman of Connecticut introduced a bill, the 21st Century Postal Services Act, which they say would reduce operating costs and modernize the USPS's failed business model. The bill, which is co-sponsored by Senate Republicans Scott Brown of Massachusetts and Susan Collins of Maine, was debated on the Senate floor Tuesday.
One of the ways the bill would cut operating costs is by taking funds set aside for employee pensions and putting them back into the budget. Carper says this won't hurt employees because the USPS currently overpays one of its pension funds. He also wants to use financial incentives such as buyouts to encourage exits for two-thirds of the 150,000 employees who are largely unionized and near retirement age.
The Senators would do away with the practice of paying worker's compensation benefits to employees who are over 65 and therefore unlikely to return to the job. Forty percent of all federal employees who claim worker's compensation are postal workers, and Collins has criticized the worker's compensation system as being an "alternative retirement program that is far more financially lucrative than the standard federal retirement system." The senators behind the bill say the Postal Service could generate more revenue if it were allowed to ship beer and wine, which the powerful alcohol distribution lobby hotly opposes.
When a local post office is losing money, Carper says his bill would offer communities a menu of options to preserve the mail system. They could vote, for example, to keep the post office open three days a week instead of five. Or they could move it into a kiosk at a Walgreens outlet, as is happening in some rural communities in the West. (Apparently, postal kiosks are already featured in some Canadian stores.)
The Senate's intense debate over the USPS overhaul on Tuesday shows that lawmakers still disagree about how to address its fundamental problems. Among the flurry of amendments hashed out was one that would limit the compensation packages of Postal Service executives. Another would ban some post office closures in rural areas, while yet another bars the USPS from ending overnight delivery services in certain areas. At least one proposed amendment had nothing to do with the service's impending bankruptcy: Kentucky Senator Rand Paul, son of GOP presidential candidate Ron Paul, tried to slip in a proposal that would block foreign aid to Egypt. It's unclear if Congress will reach a compromise anytime soon.
Before it's here, it's on the Bloomberg Terminal.
LEARN MORE