Unruly NFL Fans to Face a Four-Hour, $75 'Timeout'
By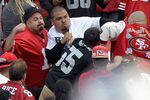 "Behaving badly towards other fans, such as fighting, swearing or threatening them, is OK as long as they deserve it." True or false? Red-blooded, boozed-up football fans would gladly raise a fist in agreement. But the National Football League wants to make it absolutely clear it doesn't condone such hooliganism.
Fans kicked out of any of eight football stadiums for bad behavior will now have to take a four-hour, $75 online course and pass a 25-question quiz that includes true-or-false questions like the one above. They can take the quiz as many times as they need to pass. Those who don't comply will not be allowed to reenter the stadium for another game, reported the New York Post. (If they try, they will be trespassing.)
Since AJ Novick Group, a Laguna Beach (Calif.)-based anger management training company, began a pilot program in 2010 with MetLife Stadium in East Rutherford, N.J., and Gillette Stadium in Foxborough, Mass., the Bills, Browns, Colts, Falcons, Giants, Jets, Packers, and Patriots have started requiring unruly fans to take the class. The NFL is recommending the measure to all 32 teams this season.
Ari Novick, founder of AJ Novick Group and the curriculum's main writer, is also piloting a similar program with two Major League Soccer stadiums—PPL Park outside Philadelphia and Red Bull Arena in Harrison, N.J.—but says because the environment at soccer games is not the same and fans support their teams differently, the curriculum had to be tailored.
The NFL class focuses heavily on alcohol abuse, covering topics such as "alcohol abuse risk factors" and "the cost of abuse and addiction of alcohol."
"I think alcohol abuse is a big part of it. It affects impulse control," says Novick. "If someone's really worked up and provoked, I would suggest they get up and take a walk. Remove themselves from that environment. Get up and take a breath in the breezeway."
From the $75 fee, AJ Novick Group takes at least $55 and donates the rest to Mothers Against Drunk Driving and the Hero Campaign for Designated Drivers.
Since 2010, several hundred unruly NFL fans have taken the course, but the numbers should grow with more stadiums participating this year. Novick estimates each stadium will send roughly 50 to 100 fans per season.
"We haven't reached out to every professional sport yet," says Novick. "My hope is that sports like hockey, like baseball, like basketball will reach out to us to learn about what we're doing and how a program like this can be helpful."
Novick adds that while there is potential to grow, this is a niche business. "This program will likely affect 1 percent of the fan population," he says. Still, "if I don't have any competition, I probably will now."