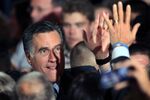 This afternoon at the Capitol, a dozen or so Republican House members assembled at a "Conversations with Conservatives" event with the press (slogan: "Get the inside scoop from the House's champions of conservatism!"). Congressmen are serious talkers. Typical of such gatherings, they offered baroque testimonials to the flat tax, the wonders of small business, and the horrors perpetrated on the country by President Obama.
Then someone raised a hand and asked, "Are any of you excited about Mitt Romney as the nominee?"
That elicited a different sort of response: silence.
After a beat, Representative Jim Jordan (Ohio) spoke up. "I would say first, we're excited about the opportunity to beat Barack Obama more than anything," he said. "Romney is the nominee."
Next, Raul Labrador (Idaho) chimed in. "I'm actually excited," he said. "I have not endorsed any candidate. I'm excited that the process is over."
Joe Walsh, the Illinois congressman, took the next stab. "The excitement, the passion in this race," he said, "will come from getting Barack Obama out of the White House. Every day he's destroying what makes this country great."
It became clear, at this point, that what excitement existed among the champions of conservatism had little to do with the identity of the likely Republican nominee. Slightly awkward! So Louie Gohmert (Tex.) livened things up with a joke.
"I did not endorse anyone," he stipulated, lest anyone mistake what came next as genuine praise for Romney. "If you're not sure about whether to endorse Mitt Romney, whether you're liberal, moderate, or conservative, you should be excited … because he's been on your side at one time or another!"
In the current issue of Bloomberg Businessweek, I wrote that Romney's prospects are better than most people make them out to be and that conservatives will soon rally around him. House Republicans will get there eventually. But as today's event made clear, not just yet.
Before it's here, it's on the Bloomberg Terminal.
LEARN MORE