Driver's Ed for Would-Be Food Truck Entrepreneurs
by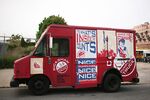 David Weber co-founded the Rickshaw Dumpling Bar in Manhattan in 2005 and took it mobile with a food truck three years later. Now the dumpling-monger has two storefronts, four trucks, and a kiosk in Times Square. The hipness of selling gourmet food out of a vehicle may have faded even before Burger King announced it would deploy food trucks to hawk its new menu, but Weber, a 34-year-old former business consultant, sees trucks as a lasting part of the restaurant industry. He started the NYC Food Truck Association last year (it now has about 30 members) and recently published The Food Truck Handbook (Wiley, 2012), a guide for would-be chefs on wheels. I sat down with him last week at the World Financial Center's Food Truck Court to talk about using trucks to test-drive restaurant ideas and about truckers' battles with cities, restaurants, and each other. Edited excerpts of our conversation follow.
What's appealing about the food truck business?
Starting a food truck takes a lot less capital than starting a restaurant. Opening a brick-and-mortar restaurant, you're going to have to sign a lease that lasts 10 or 15 years, set up your kitchen, build out your interior space. You might be looking at half a million or a million dollars just to get up and running. With a food truck—for $100,000 or $150,000—you can test out the brand and test out your operation. It lets you nail down a concept and figure out who the customers are, so that next step of opening a restaurant is a lot less risky. I think of these trucks as hospitality incubators: Let's try this food concept in a beta.
What are the risks?
There's so many points of failure within a food truck operation. If the engine goes down, you're not making money that day. If the generator goes down, you're not making money that day. A lot of the kitchen equipment is developed to be used in a kitchen in a building, where things are stable, and the universe isn't rattling along the road every day. The shelf life of kitchen equipment is a lot shorter on a truck.
Burger King is about to deploy food trucks to promote its new menu. Has the trend gone overboard?
Fast food chains will have food trucks—and in the right places, it's going to make sense for them. But part of the broader appeal of what food trucks offer is specialization in doing one thing well. There's also the idea of authenticity. That connection that exists between the customer and the operator and being able to support a small business, I think, is part of what's propelled this.
How do food trucks deal with backlash from restaurant owners?
Rickshaw Dumplings was a restaurant first. We're very attuned to the needs of brick-and-mortar establishments because a third of my members have both brick-and-mortar restaurants and food trucks. We don't want street vendors rolling up on us. We feel there is a safe and fair way to balance those needs.
What are the challenges with regulation as cities look at this fast-growing industry?
Every large city has been grappling with this for the last five years. Last year someone dug up a code from 1965 that said you can't vend merchandise from metered parking. The New York State Supreme Court ruled that food is merchandise, which all of a sudden made every metered parking space off limits. For the past year, food trucks in New York have been operating in a very precarious environment where there's effectively no legal place for us to be.
You write about conflicts with other food vendors.
Now there's more understanding between the operators. In the beginning, it was much more rocky. There were flashpoints between more traditional operators and the new branded trucks coming onto the scene. There's several instances in which the traditional operators said: "I own this corner." No one owns a corner. So negotiating street vending locations can be tough.
What's the most coveted location in New York?
Midtown's a very popular destination because it's so dense. There's so many office workers. You need to find a location that's visible and drives business but not so visible that it invites enforcement. I don't think I've been resting easy between 8:30 a.m. and 10:30 a.m. in two years. You're always just dreading that phone call: "Oh, we showed up and no one's here." Or, "We couldn't get the spot, we need a second spot." Or, "We got a spot but we were asked to move."
Before it's here, it's on the Bloomberg Terminal.
LEARN MORE