B-School Twitter Roundup
Alison Damast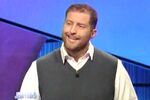 This week's Twitter roundup of happenings in the business school world includes a business professor winning a cash prize on the game show Jeopardy, parting words from a long-time B-School dean, and advice for MBA students planning to work in startups.
Keith Weigelt, a professor at the University of Pennsylvania's Wharton School, helps West Philadelphia residents become more financially literate through a new community program started by a Wharton alum (@wharton, April 11)
University of Chicago's Booth School of Business Forms Partnership with Nielsen, a move that will allow professors access to the company's extensive marketing data (@booth_insider, April 12)
Dean Peter Henry and MBA students from NYU's Stern School of Business, head to Times Square to ring the Nasdaq closing bell (@nyustern, April 13)
The FEMBA Flex, a new hybrid MBA degree program at the UCLA Anderson School of Management, will let working students take classes both online and on campus, says Dean Judy Olian (@DeanOlian, April 13)
Don Hoang, a 2011 Stanford Graduate School of Business MBA alum, shares five things he learned in the first 100 days of working at a startup (@StanfordBiz, April 13)
Sean Hansen, an MBA alum of Case Western Reserve's Weatherhead School of Management and a business professor at the Rochester Institute of Technology Saunders College of Business, brings home $31,001 after a two-day stint on Jeopardy (@caseweatherhead, April 13)
Sherry Wallace, admissions director at University of North Carolina's Kenan-Flagler Business School, shares her thoughts on what international MBA applicants should be thinking about before applying to a U.S. business school. (@kenanflagler, April 15)
Departing Dean Ángel Cabrera's final thoughts on his legacy at the Thunderbird School of Global Management (@cabreraangel, April 15)
Hakan Ener, an assistant professor of entrepreneurship at Spain's IESE, offers advice on team dynamics when presenting a business plan (@iesebs, April 15)
MBA students from the University of Virginia's Darden School of Business team up with the Building Goodness Foundation to fix homes in Charlottesville (@DardenMBA, April 16)
Before it's here, it's on the Bloomberg Terminal.
LEARN MORE