business
Argentina Tries the Chávez Way
By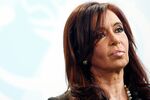 It's hard to believe now, but in the early 1980s, Argentina was perhaps the most promising and talked-about emerging market. Coming off the trauma of its Dirty War and military dictatorship, and its disastrous invasion of the Falkland Islands, democracy finally took root in 1983. Endowed with abundant natural resources, endless tracts of fertile land, and half-decent infrastructure, the then-167-year-old country projected upside to the investor community.
But Argentina regressed. In late 2001, as its economy collapsed, the country defaulted on $100 billion in debt and nationalized several enterprises. Argentina has since been a pariah state among international creditors. At the World Bank's International Centre for Settlement of Investment Disputes, Argentina has more disputes pending against it than any other nation. Since 2003, rulers Néstor Kirchner and wife Cristina Fernández de Kirchner have nationalized $24 billion in private pensions and raided $6.6 billion in reserves from the central bank to make debt payments.
Now, Cristina Fernández (a widow since October 2010 and reelected by a landslide a year later) is seizing control of YPF, the former national oil monopoly that since 1999 has been majority-owned by Spain's Repsol. On Monday, she delivered a fire-and-brimstone speech on TV that blamed foreigners for the energy shortages plaguing the country—a rationalization for what would be the largest natural resource re-nationalization since Russia moved to seize Yukos in 2003. Fernández decreed that Argentina's minister of planning and public investment would immediately assume the reins at YPF.
It's not uncommon for leaders of developing countries to experience seller's regret in the face of soaring commodity prices. In Venezuela, Hugo Chávez has practically turned expropriation into a sport. The trend has also caught on in Ecuador and Bolivia. Depending on their political standing and the state of their economies, governments in Latin America toggle between a bias toward state ownership and one in favor of private investor rights.
The appeal for Argentina to follow suit was strong. Since 1999, when YPF was sold, the price of crude oil has surged from the teens to more than $100 a barrel. Argentina's oil reserves have declined about 18 percent over roughly the same period, according to the Argentine Oil and Gas Institute. In 2011, for the first time since YPF was privatized in the early 1990s, Argentina became a net importer of natural gas and oil. The government there blames Repsol for starving YPF of investment in order to pay out shareholder dividends.
The 59-year-old Fernández has recently been riding a wave of nationalist-fed popularity. This month, on the 30th anniversary of the war over the islands Argentina persists in calling Las Malvinas, she has been thumbing her nose at London. Her cabinet ministers have gone as far as to exhort companies to shun British imports.
This chest-thumping comes at a cost. Moneyed Argentines are parking their cash in Miami to avoid 23 percent inflation and the threat of creeping government expropriation. Also, since Fernández's landslide reelection in October, Argentina's borrowing costs have overtaken Venezuela's. On Monday, when Fernández made her YPF announcement, the cost to insure against an Argentine default staged the biggest jump in the world, according to data provider CMA.
"Why did Cristina do this?" asks Jerry Haar, international finance professor at Florida International University. "Because she could. Having won reelection easily, and with Chávez and Fidel Castro both at death's doorstep, her [ego] is soaring to new heights. As long as the price of commodities [is] high and without any effective internal challenge, Cristina can and will do whatever she pleases."
Before it's here, it's on the Bloomberg Terminal.
LEARN MORE