Why It's So Hard to Write Off Your Home Office
by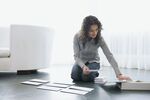 Work from home sometimes? Of course you do. About half of all U.S. businesses are based at home, U.S. Census data show, and most professionals toil from their private domains at least some of the time. So it's only right, then, that you should get a tax break for ceding part of your domicile over to your job. Right?
Not so fast. The IRS doesn't think you deserve a write-off for reading your BlackBerry in the bathroom. For those who legitimately have separate spaces in their homes used "exclusively and regularly" for work, the taxman offers some relief, but it's not easy to claim. Instructions for the home office deduction run 34 pages (PDF), and only about a third of eligible taxpayers take it.
The convoluted history of this corner of the tax code reveals how, over a generation or two, "work" escaped the office and factory floor to invade every inch and hour of what used to be called "life." A 2010 article in the Baltimore Law Review (PDF) recounts the tale in grim detail.
What counts as a legit home office has been murky from the start. Before 1976, the tax code had no specific home office provision, but employees who were required to work from home could write off some associated costs. George Newi, a TV ad salesman who spent three hours a night working from his converted den, helped loosen the standard in 1969. The Tax Court ruled that Newi could deduct a quarter of his rent, even though he worked after hours by choice when he could have returned to the office.
That loose, fuzzy standard invited generous interpretation by the likes of Stephen Bodzin. Himself an attorney for the IRS, Bodzin tried to write off part of his rent because he did some work at home in the evenings and on weekends. In 1975 (eight years after the tax return in question), Bodzin lost his case against the agency he worked for when an appeals court found that his home wasn't his place of business. Rather, "he sometimes, by choice, did some of his reading and writing at home."
The following year, Congress passed a tax reform law that narrowed the home office definition to prevent taxpayers from abusing the deduction. Confusion reigned, however.
In one case, musicians for the Metropolitan Opera who spent 30 hours a week practicing in their homes were initially denied the break because a court ruled that their place of work was Lincoln Center; they won on appeal. An anesthesiologist who did paperwork at home because he had no hospital office was denied his write-off by the Supreme Court in 1993. "The facts in each case will vary, making it difficult to develop a bright line test," the high court said. In 1997, Congress passed the Taxpayer Relief Act to explicitly include home offices used for administration in businesses that have no other fixed location, which would give the anesthesiologist his tax break.
For the past decade, advocates for the home-based workforce have sought to give taxpayers the option to check a box for a standard $1,500 home office write-off. That would save them the tricky business of calculating what percentage of the home is dedicated to business—and therefore what share of rent, insurance, utilities, and maintenance costs can be deducted. Various versions of the proposal have languished in Congress for at least eight years, says Kristie Arslan, president of the National Association for the Self-Employed.
Unlike employees' wages, business income and deductions can't be easily verified by the IRS. In one analysis, 57 percent of sole proprietors misreported income, compared to one percent of employees. So the IRS doesn't have much of an interest in making it easier to take the home office deduction, for fear that it could be easily abused to short-change Uncle Sam.
That leaves a headache for those trying, legitimately, to write off the cost of a workspace that happens to be in the same place that they sleep. Arslan's question: "Why is it that if the same business person was to simply rent an office, it would be so much easier for them to take their deductions?"
Before it's here, it's on the Bloomberg Terminal.
LEARN MORE