pursuits
The Government's War on Yard Sales
Pack up those outdated polyester shirts, scratched vinyl records, and cloudy water glasses, South Greensburg, Penn.
By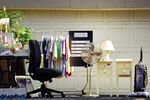 Note to residents of South Greensburg, Penn.: Pack up those outdated polyester shirts, scratched vinyl records, and cloudy water glasses and put them back in the garage. The city faces a new ordinance, up for adoption in May, that would limit each family to two yard sales per year, each time charging a $5 permit fee, reports CBS Pittsburgh.
The ones likely to benefit from the rules are curmudgeonly neighbors celebrating neat lawns and Wal-Mart managers hailing the end of consumers' ability to easily buy used stuff.
This is but the most recent incident—killjoys have attacked yard sales for decades, complaining that they turn residences into retail spaces. To top it off, the federal government is weighing in through the U.S. Consumer Product Safety Commission, which asks sellers to screen for recalled or dangerous products.
"How on God's earth can the government decide when and how often you want to resell your possessions? This isn't China or Russia, it is the United States of America, formerly known as the land of the free," commented one reader.
Some other acts against lawn-based entrepreneurs in small towns near you:
Elkhart, Ind.: City rules allow residents to have no more than a total 15 days of yard sales per year, with each sale held for a maximum of 3 consecutive days. Tough luck: During the recession, garage sales were the sole source of income for the city's many unemployed residents.
San Angelo, Tex.: In 2011, the San Angelo City Council enacted a cap of two garage sales per year, reported the San Angelo Standard Times.
Phenix City, Ala.: Phenix City residents cannot hold more than two yard sales per year and they can last for no more than three consecutive days, according to regulations passed last year.
Ontario, Calif.: The city limited the number of yard sales to two per year, each requiring a a $3 permit, and later increased the cap to four sales. However, they may take place only once per quarter and only on these specific dates in 2012: Feb. 3-5; May 4-6; Aug. 3-5; and Nov. 2-4.
Before it's here, it's on the Bloomberg Terminal.
LEARN MORE