Meet Pussy Riot, Russia's Punk Protesters
The provocateurs, facing trial this week, channel the vast disapproval of the Kremlin among the country's youth.
Peter Savodnik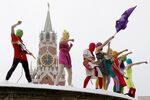 Pussy Riot is the latest sign that the kids, at least the ones in Russia, are not alright. The punk rock collective is fond of turning up in such public places in Moscow as Red Square and the Cathedral of Christ the Savior to perform songs about how much they hate Vladimir Putin. Members sport colorful skirts, leggings, and most important, masks—the better to protect their identities. Starting on April 19, a court will decide whether the band keeps rocking out or spends the next seven years in prison.