Immigrant Teens Dare Authorities to Deport Them
By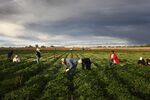 Three years ago last month, a handful of immigrants in their teens and twenties stood up in front of a large crowd in Chicago's Daley Plaza and admitted to the world that they were in the United States illegally. Their message: Deport us if you dare.
The young people weren't deported. And though their cause—they were advocating passage of a long-stalled law that would grant legal status to those who came to the U.S. as children—hasn't progressed politically, it has caught on elsewhere. Since that first protest, about 100 so-called Coming Out Of The Shadows events have been staged in cities across the country, from such immigrant-friendly places as San Francisco to Phoenix, set in a state whose strict immigration law heads for a U.S. Supreme Court hearing at the end of the month.
So far, no one in this nascent youth movement has been deported. (Four young people were sent to immigration detention centers but were released shortly thereafter.) On Saturday, Coming Out Of The Shadows went to a place where it is especially difficult to be an illegal immigrant: Alabama. The state currently has one of the harshest immigration laws in the country. Under the law, known as HB 56, "upon any lawful stop, detention, or arrest made by a state, county, or municipal law enforcement officer…where reasonable suspicion exists that the person is an alien who is unlawfully present in the United States, a reasonable attempt shall be made, when practicable, to determine the citizenship and immigration status of the person, except if the determination may hinder or obstruct an investigation." The law also increases the penalties for businesses that hire them. Since the law went into effect in September, thousands of immigrants have fled the state.
According to the Immigrant Youth Leadership Initiative of Alabama, the group that organized the event, about 20 illegal immigrants, most of them aged 13 to 16, announced that they're "undocumented and unafraid" at a "coming out" rally in a public park in Birmingham. The founder of the group is 20-year-old Victor Palafox. He says he came to the U.S. from Mexico City when he was seven years old and that his entire family is in the United States illegally. Palafox says he became politically involved two years ago, after he was accepted into colleges in the Southeast but was told he'd have to pay international tuition to attend. At the University of Alabama-Birmingham, that $42,000 tuition was unaffordable for his family, which owns a local construction business.
After the law passed, Palafox says his mother came to him to apologize for bringing him to the country and "ruining his life." "I told her, you should not be apologizing to me. The ones who supported this law should be blamed." Palafox says that the experience of being illegal in Alabama is different from states where there are higher concentrations of immigrants. "There is a lot of self-hate and shame," he says. "It's something that has been ingrained into our mentalities. Even in our own communities, we wouldn't open up and come out to each other as undocumented."
The protesters believe (perhaps naively) that although many Americans may be opposed to illegal immigration in the abstract, they'll think differently upon seeing that illegals include friends and neighbors. "We're not who you think we are and immigration is not who you think it is," says Jose Antonio Vargas, a former Washington Post reporter who admitted he is an illegal immigrant and has since become the movement's most prominent spokesman.
It's also a way of testing political will and the limits of an immigration system most people think is unworkable. To some degree, that tack has been effective. Until now, the Obama administration hasn't been willing to deport a teenager who has come out as undocumented. "Normally, the more public you are," says Mohammad Abdollahi, a 25-year-old activist in Michigan, "the more [the authorities] stay away from you."
Before it's here, it's on the Bloomberg Terminal.
LEARN MORE