Germany's Angela Merkel Tilts Toward Pro-Bailout Party
By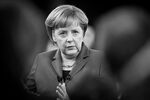 Spain is where the flames are bursting out, but Germany is the country with fire engines in the garage. If you want to know whether Europe's reemerging financial crisis can be quelled, look to Germany—specifically to the complex politics leading up to Chancellor Angela Merkel's bid for reelection in 2013.
Despite Merkel's recent flirtations with the pro-bailout left, don't expect Germany to step up aid to Europe's debtor nations significantly.
Leon Mangasarian and Tony Czuczka of Bloomberg News are reporting today that Merkel "may be preparing a rerun of her 'grand coalition' with the Social Democrats." The Social Democratic Party (SPD for short) is a left-leaning group that favors issuing euro bonds as a way to knit Europe together more closely and rescue its weaker countries. To non-Germans, it seems a bit strange that Merkel would be tilting toward a party that's pro-bailout, considering that opinion polls show Germans are disgusted by the amount of money they have already committed to helping Greece, Portugal, and Ireland and are in no mood to extend aid to bigger nations such as Spain and Italy.
To understand this better, I spoke today with German-born and -educated Markus Schomer, chief economist of Pinebridge Investments, a New York asset manager with $67 billion under management, about how he sees this developing. Here are some key points that came out:
• Merkel's dalliance with the Social Democrats doesn't mean she has changed her politics. Her right-leaning Christian Democratic Union and its Christian Socialist Union ally were in a governing coalition with the Social Democrats from 2005 to 2009, so this is nothing new.
• Merkel's current partner, the right-leaning Free Democratic Party, is resolutely anti-bailout but hasn't been able to translate that into popular support because of weak leadership. It's at risk of falling below the 5 percent vote total a party needs to get seats in the Bundestag—which is why Merkel is searching for another partner.
• The Social Democrats, as Merkel's junior partner, probably would not be able to get their way on euro bond issuance. They're unlikely even to campaign on the theme, since being pro-Europe is a political loser. "You can't run on being particularly pro-bailout," Schomer says.
• Nevertheless, having the Social Democrats in the governing coalition would be good for the rest of Europe, because the SPD is a pro-spending party. If Germany spends more, it will be a stronger engine of growth, pulling in more imports from the rest of Europe. As Bloomberg News reports, Merkel is already leaning in that direction: Last month she agreed to a 6.3 percent pay raise for public-sector workers over the opposition of her Free Democrat partners.
Before it's here, it's on the Bloomberg Terminal.
LEARN MORE