business
Following Other People's Stock Picks Just Got Easier
By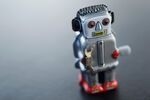 Do you love trading stocks but aren't sure which ones to buy and sell? Does coming up with an investment strategy sound like hard work? Would you rather follow the moves of smarter investors but don't know where to find them or how to copy their trades? Roboinvest is here to help. The New York-based startup announced on April 11 that it now offers "1-click copy trading." The company already allows users to follow "leaders who consistently outperform the market" by getting messages delivered to their mobile devices whenever those leaders make trades. Now followers can execute "copy trades" with a single mouse click.
"It works similar to when you connect your Facebook account to a website," says Roboinvest's founder, Michael Giles, who also happens to be the top-ranked investor on the site. Currently the service is only available as an add-on to E*Trade. To use it, a customer has to sign up for a free Roboinvest profile, pick leaders to follow from a slate of dozens, and connect the Roboinvest profile to an E*Trade account. A button then appears on the E*Trade screen that alerts the user whenever one of the user's leaders makes a trade, and offers to make the same trade. There are a few basic limits: stocks only; capped at $2,000 per trade, or 20 percent of total funds, whichever is lower; and copycats have 30 minutes to act.
Who are these so-called leaders? Anyone willing to make their own trades public via Roboinvest. So far, there are no big names. "They're just ordinary people," says Giles. "Some of them are experienced longer-term investors. We've got college students on there that actually do very good." Roboinvest allows leaders to charge for the privilege of seeing their moves, but so far, says Giles, most are giving away their wisdom. "If someone like [Warren Buffett] was on there, they might charge for it," he says, "but if someone is just building their cred, they make it free and get followers."
Isn't this a recipe for losing money? Maybe, but people already follow stock tips from Barron's, Jim Cramer, and their brother-in-law's uncle. And in this case, the guru is taking the same risks as the pupils. "It's all verified, real information that someone has plopped down real money to take that position," says Giles.
Wouldn't this be a great tool for manipulating the market? Potentially, yes, but for the time being Roboinvest is much too small a player to move most stocks. According to Giles, the service has about 1,000 combined leaders and followers and has processed more than $2 million in transactions in its first eight weeks. Shares in, say, Bank of America trade in billion-dollar volumes daily. Giles says Roboinvest monitors for trades in stocks that don't have sufficient liquidity and is adding filters to make them off-limits. Still, "liquidity is a spectrum," warns Russell Wild, a registered investment adviser in Allentown, Pa. "If I were a successful trader, and I knew that I could bring along a whole bunch of puppies to follow me, boy, it would make pumping and dumping awfully alluring."
Who is this Giles character? He's a 28-year-old native of Melbourne, Australia, who started trading when he was 12. In 2004, he tried to create an automatic investing service in Australia but mostly managed, he says, to "waste a lot of money."
What's in it for him? Giles says he's still working on a revenue model for Roboinvest, but it will probably involve charging fees for driving business to brokers and stock newsletters.
So should you start roboinvesting today? It depends on how brave you are. "Attempts to beat the market are as legendary as alchemy and just as successful," says Wild. "We know from study after study after study that those who simply emulate the markets rather than some alleged market leader tend to do much better." There are rare traders who routinely beat the market and share their advice in newsletters, but their readers are notoriously bad at matching the results. Maybe, just maybe, says Wild, a system like Roboinvest could help narrow that gap: "If you can find someone who has true talent, I would say there's the promise of beating the market there."
(
Corrects description of Roboinvest's transaction volume in the fifth paragraph.
)
Before it's here, it's on the Bloomberg Terminal.
LEARN MORE