Billionaire, 85, Wants Students to Care About Deficits
Pete Peterson fears the debt
By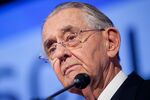 At 85, billionaire Peter G. Peterson is old enough to be the father of ex-President Bill Clinton. Some of today's college students could be his great-grandchildren. Peterson says he'll be dead long before the economic chickens come home to roost for people currently in college.
But that hasn't stopped him from reaching across party lines and generations to team up with Clinton on a project to inspire young people to care about "America's long-term fiscal and economic challenges."
Last month, Peterson, Clinton, and Net Impact Chief Executive Officer Liz Maw announced a contest, starting this fall, in which teams from 12 colleges will create campaigns to raise awareness and inspire action. The winning team, which presumably will be adept at social media, teach-ins, and other methods, will be announced at next year's Clinton Global Initiative University meeting.
The contest is called Up to Us, with the "Us" referring to people a little more than six decades younger than Peterson. Known as "Pete," Peterson is the son of poor Greek immigrants and was President Richard Nixon's Commerce Secretary. Later he made a killing as co-founder of Blackstone Group, the big private equity firm that went public in 2007.
I interviewed Peterson last week in the midtown Manhattan offices of the Peter G. Peterson Foundation, which is sponsoring Up to Us. He endowed the foundation with a billion dollars. Peterson was in an upbeat mood despite the daunting challenge of getting the U.S. on a path to fiscal soundness.
He told a joke about a professor who asked his students which is a worse problem in their generation, ignorance or apathy. From the back row someone yelled, "I don't know and I don't care."
Getting young people to know and to care is the challenge of Up to Us.
Peterson has been banging this drum for so long—since 1981, to be precise—that he gets ribbed about becoming an old crank. In one story, terrorists take over a plane and announce they're going to kill him and one other captive, giving each of them a dying wish. Peterson says his dying wish is to lecture the passengers about entitlements. The other captive says, "Shoot me first."
Peterson, though a Republican, faults today's GOP leadership for being unwilling to raise taxes as part of a solution to budget deficits. He's also tougher on the Pentagon than most Republicans. The Department of Defense says it needs to be ready to fight two land wars, he notes. "When you ask where are those two land wars, you don't get a good answer."
But Peterson doesn't let Democrats off the hook, either. He thinks they're too soft on spending cuts. And he favors more aggressive means-testing of benefits such as Medicare and Social Security—phasing the programs out for upper-income recipients. Many Democrats fear that doing so would undermine the broad support those programs have now.
Why won't Peterson let it rest and enjoy his retirement? "It's very personal for me," he says. "I lived the American Dream. My parents had a third-grade education. They came to this country from Greece at age 17, not a word of English. My father washed dishes in a caboose, 115 degrees. … They started a restaurant that was open 24 hours every day. It didn't close for 25 years. When they cut back the hours they had to have a key made for the front door."
Peterson doesn't quite say so, but it's clear that Up to Us is partly about waking up a generation that takes its prosperity for granted. His message to today's college students? "It's your future we're talking about, not mine."
Before it's here, it's on the Bloomberg Terminal.
LEARN MORE