A Bag Lunch Recipe From Jay-Z's Personal Chef
New Zealand native Mike Shand shares his recipe for a tupperware ready version of the 40/40 Club tequila chicken with hot corn salsa.
By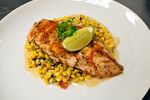 New Zealand native Mike Shand, Jay-Z's personal chef since January 2010, became executive chef at the hip-hop mogul's 40/40 Club in New York's Flatiron District in December 2011. Shand—who favors Southeast Asian, Latin, American Southern, and French flavors and techniques in his cooking—continues to work with Beyoncé and Jay-Z both on and off tour.
Shand offers Bloomberg Businessweek his recipe for the 40/40 Club's tequila chicken with hot corn salsa—like all the items on the club's menu, it's Jay-Z approved. According to Shand, "This dish is ideal to bring to work for lunch, as it can be prepared for dinner the night before and reheated without compromising its flavor the next day. For a quick and healthy lunchtime addition, top the leftover steamed rice with seasoned black beans to doubly impress co-workers."
Ingredients:
2 8-ounce skinless, boneless chicken breast fillets
2 super red ripe plum tomatoes
1 oz. Corzo tequila
1 cup water
½ bunch of cilantro (12 baby leaves for garnish, the rest chopped and stems reserved)
1 fresh jalapeño, diced
¼ cup red pepper, diced
2 limes, zested and juiced
2 oz. pickled jalapeños (diced) and juice
¼ cup red onion, diced
1 cup freshly shucked yellow corn (or can of corn kernels)
Salt
¼ cup mascarpone
4 tablespoons olive oil
Directions:
For the marinade: Cut tomatoes into quarters length-way and remove flesh from inners. Dice flesh and reserve.
Place tomato insides, cilantro stems (keep leaves for chopping), jalapeño juice, lime zest, a pinch of salt, and water into a small saucepan and bring to a boil. Add tequila and quickly purée in blender till smooth.
For the chicken: Marinate the chicken in half the tequila mix and hold. When ready, season breast with salt and Char-Grill, continuing to baste with marinade while grilling until well-charred and cooked through on both sides.
Once cooked, allow chicken to stand for 5 minutes. Begin preparing salsa during this wait, then slice chicken into quarter-inch slices
For the salsa: Quickly sauté corn, red peppers, jalapeño, and onions with oil and salt. Finish with lime juice, mascarpone, fresh cilantro, and diced tomato. It's ready once the mascarpone has melted and the salsa has returned to a simmer. Allow to stand for 10 minutes, then spoon a tablespoon of the salsa onto a plate, place diced chicken on top, and garnish with a baby cilantro leaf.
******
Optional: Serve with rice and canned seasoned black beans.
For the rice:
1 cup long-grain rice
1 tbsp. olive oil
1 tsp. butter
2 cups water
2 pinches of salt
Bring the oil to a mid temperature in a small saucepan with a snug lid. Sauté the rice in the oil for less than a minute, stirring constantly. Add water and salt, return to a hard boil, stir once, place lid, and reduce flame as low as possible for 10 mins. Turn off completely but DO NOT remove lid for 20 minutes. Add butter and loosen rice with fork.
Before it's here, it's on the Bloomberg Terminal.
LEARN MORE