business
Unleashing America's Entrepreneurial Power
Harold L. Sirkin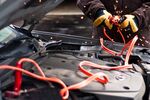 One of the reasons job growth hasn't been more robust during the current recovery is the fact that many small, startup businesses—which typically power U.S. growth following recessions—are still struggling, due to tight credit.
This can be seen in the numbers. In 2000, there were 634,276 businesses under a year old; by 2010, that number had fallen to 505,473. In 2000, some 4,648,531 jobs were created by startups; in 2010, the number had fallen to 2,456,522.
Recognizing the problem, Washington finally came together and passed the bipartisan JOBS Act, which stands for "Jumpstart Our Business Startups."
Signed into law on April 5, the JOBS Act creates a new category of "emerging growth" companies that are allowed to make initial public offerings without meeting certain financial disclosure and governance regulations, such as those required by the Sarbanes-Oxley Act. The legislation also authorizes such firms, through something known as "crowdfunding (PDF)," to raise up to $1 million annually in capital directly from small investors, perhaps over the Internet or through direct mail, without registering the shares with the Securities and Exchange Commission.
Companies and nonprofits are helping as well.
The $2 billion Ewing Marion Kauffman Foundation, for example—established in the 1960s by the founder of Marion Laboratories (now part of Merrell Dow)—is devoted to entrepreneurship, focusing on programs such as the Kauffman Laboratories for Enterprise Creation, which seeks to increase the number and success of startup firms.
Two former startups that are giving back are Starbucks and the Boston Beer Co., known for its Sam Adams brand. (Full disclosure: Founder Jim Koch is an alumni of my firm BCG.)
Starbucks's program, Create Jobs for USA, provides financing to underserved community businesses through the Opportunity Finance Network. The Starbucks Foundation provided $5 million in seed money; customers can support the effort through donations at the cash register. Two other organizations, Banana Republic and Google Offers, joined the effort in early April.
Boston Beer's program, conducted with Accion USA, provides loans of $500 to $25,000 to owners whose businesses typically wouldn't be approved for bank loans. The company also hosts free seminars and "speed coaching" events for business owners needing advice. Boston Beer's initial $250,000 commitment established the Samuel Adams "Brewing the American Dream Micro-Loan Fund" at Accion.
America is clearly on the move again. Economic growth is accelerating, unemployment is declining, and housing prices are slowly starting to rise.
With startup businesses getting relief from regulatory burdens and help from knowledgeable nonprofits and companies, the recovery is looking better every day.
Before it's here, it's on the Bloomberg Terminal.
LEARN MORE