Smart Customers Abandon Stupid Companies
Bruce Kasanoff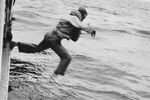 Before anyone accepts the job as chief executive officer of Best Buy, a company valued at about $7.6 billion, they ought to consider a firm worth $74 million: Kodak.
Neither company anticipated the disruptive nature of digital technologies. Both stuck too long with a formerly successful business model. Best Buy faces a huge challenge: Consumers use their stores as showrooms for products they buy for less money from other merchants, mostly online. 

To be fair to Best Buy, my guess is that as many as one-third of CEOs at the largest companies are running the next Kodak—they just don't know it yet. There is a chasm that's getting wider by the nanosecond between smart customers and stupid companies. The former are increasingly empowered by 24/7 access to price comparisons, reviews, and advice from friends. The latter continue to drive customers crazy with their archaic ways of doing business. 
Consider these examples of smart vs. stupid behavior: 
Smart: Apple has outsourced huge chunks of software development by creating the App Store, which is fueled by efforts outside the company. Apple gets a steady stream of new products without paying anyone to develop new apps. 
Stupid: Sony mainly develops products in-house, where—innovative or not—the effort is subject to scrutiny from upper management, effectively stymieing quick action and smothering any entrepreneurial instinct, not to mention the cost of all that internal development. 
Smart: Pinterest appears to have solved the toughest challenge in delivering personalized service to customers: People won't take the time to tell companies what they like. But Pinterest gets customers to do just that, simply by "pinning" stuff they like. 
Stupid: Audi just sent me another survey asking about the quality of their customer service … after the dealer warned they would be damaged by anything less than a perfect five score. Audi learned nothing about me from this inane exercise. 
Smart: Microsoft's Kinect for Xbox 360 can recognize different members of your household and knows when your child leaves the room but you remain. It even understands what you say. 
Stupid: In the U.S., HSBC's ATMs kick customers out of the system after they make a deposit, without first asking whether they might like to do anything else. An HSBC spokesman says they plan to change this "by the end of the year."