ForumWatch: How Important Is Diversity?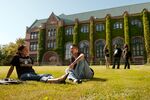 The Bloomberg Businessweek Business School Forum provides an opportunity for readers—everyone from those thinking about earning an MBA to B-school administrators—to debate and discuss issues that are relevant to management education.
Recently, a forum participant who goes by the username "nutmeg" asked how important diversity is to those who are applying to business schools. In addition, nutmeg wanted to know how people defined diversity. What do they think makes a class or a school diverse? Is it race and ethnicity, socioeconomic diversity, diversity of experience, or diversity of opinion? Business schools say they value diversity but have struggled to increase the representation of women, minorities, and international students.
To share your thoughts and opinions, visit the "How important is diversity?" discussion thread.
—Francesca Di Meglio
Editor's Note: This blog post is part of a series about discussions taking place on the Bloomberg Businessweek Business Schools Forum, where prospective MBA program applicants, current students, and recent alumni trade admissions tips, job-hunting advice, and the occasional barbed comment. We invite you to join these discussions or start one of your own.
Before it's here, it's on the Bloomberg Terminal.
LEARN MORE