Cory Booker vs. Ryan Gosling: Who's the Greater Hero?
Who would you rather have rescue you, the fire-braving Newark mayor or Hollywood's Good Samaritan?
By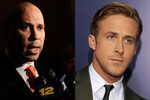 When I heard that Newark (N.J.) Mayor Cory Booker saved a woman from a burning building last night, I immediately thought of Ryan Gosling. Granted, I do that a lot—while styling my hair, while drinking alone in my apartment, on Thursdays—but the whole rescue-your-neighbor-whose-house-just-caught-on-fire thing just sounds like something Gosling would do. After all, the actor has already broken up a street fight and saved a journalist from being hit by a New York City taxi. But he hasn't risked his life for anyone the way Cory Booker has. I found myself thinking, who would I rather be rescued by? The answer depends on the type of emergency I'm experiencing.
Scenario One: I'm on a sinking ship
Cory Booker. As a politician, he can quickly and easily contact someone who will send the U.S. Coast Guard to come get me. Ryan Gosling wouldn't be good for anything except reenacting scenes from Titanic.
Scenario Two: I've been robbed
Ryan Gosling. In 2011, he broke up a fight on a Manhattan street between two men who were arguing because one had stolen the other's painting. Apparently the thief had long admired the victim's artwork. "He's getting his ass kicked by his hero," Gosling explained in a later interview, "and then the guy from The Notebook shows up and makes it weirder." After he'd stopped the fight, he paid for the stolen painting. So if I ever get robbed, maybe Ryan Gosling will buy me a new iPod.
Scenario Three: I'm haunted by ghosts
Ryan Gosling, obviously. He was once in Nickelodeon's Are You Afraid of the Dark?, which means he has experience with stuff like this.
Scenario Four: I'm trapped under something heavy
Cory Booker. During a December 2010 blizzard, Booker responded directly to snowbound constituents' needs as they were tweeted to him. "Will get someone to your mom's street, tell her to stay put," he told one person on Twitter. "I just dug out [your] car," he said to another. That's right: Booker and his staff actually went out into the streets and shoveled snow themselves. So if I ever find myself trapped under a log, I can just tweet @CoryBooker and he'll probably come remove it.
Scenario Five: I've been kidnapped by a madman who threatens to kill everyone I love, one at a time, in terrible and gruesome ways, unless I can correctly solve the New York Times crossword puzzle
Cory Booker. He was a Rhodes scholar. Ryan Gosling just looks pretty.
Scenario Six: I'm being attacked by a bear
Neither. Ryan Gosling is a spokesperson for PETA, so he wouldn't do anything to the bear except hug it. And as far as facing bear attacks is concerned, Cory Booker simply doesn't have enough experience. Instead, I'd turn to Vermont Governor Peter Shumlin, who was chased by four bears this week while attempting to rescue his bird feeder.
Before it's here, it's on the Bloomberg Terminal.
LEARN MORE