Cory Booker vs. Ryan Gosling: Who's the Greater Hero?
Who would you rather have rescue you, the fire-braving Newark mayor or Hollywood's Good Samaritan?
By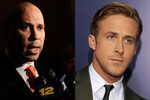 When I heard that Newark (N.J.) Mayor Cory Booker saved a woman from a burning building last night, I immediately thought of Ryan Gosling. Granted, I do that a lot—while styling my hair, while drinking alone in my apartment, on Thursdays—but the whole rescue-your-neighbor-whose-house-just-caught-on-fire thing just sounds like something Gosling would do. After all, the actor has already broken up a street fight and saved a journalist from being hit by a New York City taxi. But he hasn't risked his life for anyone the way Cory Booker has. I found myself thinking, who would I rather be rescued by? The answer depends on the type of emergency I'm experiencing.