Can Romney Shoot Straight on Guns?
By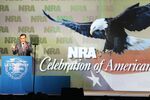 When presumptive Republican presidential candidate Mitt Romney addresses the annual meeting of the National Rifle Association today in St. Louis, he will face a tough crowd. The NRA demands unswerving consistency when it comes to its principles and positions. Unswerving consistency is not, ahem, Romney's strong suit.
"He's better than Obama," Tom Zenthoefer, 53, an NRA member from Fenton, Mo., told Bloomberg News in this excellent dispatch from St. Louis. "It will be a hold-your-nose situation." (Update, 5 p.m. ET: Bloomberg has updated its story with some of Romney's speech. "We need a president who will stand up for the rights of hunters, sportsmen and those who seek to protect their homes and their families. President Obama has not; I will," he told the NRA conventioneers.)
If you think Romney, aka Mr. Etch A Sketch, has had trouble marking a straight line on such issues as health reform and reproductive rights, the topic of firearms will only reaffirm your skepticism.
"I don't line up with the NRA," the candidate said back in 1994 when he tried to position himself as a moderate alternative to the liberal Senator Edward M. Kennedy in Massachusetts. After that failed challenge, Romney's first foray into politics, the former private equity executive ran successfully for Massachusetts governor in 2002, without the NRA's endorsement. "We do have tough gun laws in Massachusetts," he said in that race. "I support them. I won't chip away at them. I believe they help protect us and provide for our safety." During his term as governor, according to the Associated Press, the state quadrupled its gun-licensing fee, and Romney signed a law that made permanent a ban on "assault weapons," although it was coupled with measures backed by gun rights groups.
Then, in 2006, as he got ready for his first run for the Republican presidential nomination, Romney discovered a new devotion to the Second Amendment and signed up for a lifetime NRA membership. He admitted during that first White House bid he wasn't a serious firearm guy (again with thanks to Bloomberg News): "I'm not a big-game hunter," he said. "I've made it very clear, I've always been a, if you will, a rodent and rabbit hunter, all right? Small, small varmints, if you will. And I began when I was, oh, 15 or so, and have hunted those kinds of varmints since then—more than two times. I also hunted quail in Georgia, so I've—it's not really big-game hunting, if you will, however. It's not deer and large animals. But I've hunted a number of times of various types of small rodents."
Does rodent hunting cut it? Not for former U.S. House Speaker Newt Gingrich, who is still in the Republican presidential contest and will also address the NRA convention. Gingrich has suggested on the campaign trail that Romney shares Obama's gun views, including support for the so-called Brady Bill of 1993, which required licensed gun dealers to perform criminal background checks on buyers. "He supported the Brady Bill, supported the gun ban, increased taxes on gun licenses by 400 percent when he was in the state of Massachusetts," said Rick Santorum, who exited the presidential race on April 10 but is scheduled to keep his commitment to speak before the NRA, as well.
Romney emphasizes that he owns guns. "I'll protect the Second Amendment," he said while campaigning in February. "I have guns myself. Not going to tell you where they are. Don't have them on myself either, all right?" Andrea Saul, a Romney spokeswoman, said Romney owns two shotguns.
So will Romney win over the NRA loyalists? "If he wants our backing, he's going to have to change his mind on some gun issues," Felix Urioste, 76, an NRA member from Granite City, Ill., told Bloomberg News. Changing his mind to win conservative backing is something Romney has shown himself willing to do.
Before it's here, it's on the Bloomberg Terminal.
LEARN MORE