Wring the Most Out of a Trade Show
By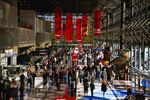 Despite repeated rumors of their demise over the past decade, industry trade shows are alive and well. After "completely falling off the cliff" in 2008, the $100 billion trade show industry has been growing nearly 3 percent over the past 18 months, says Steven Hacker, president of the International Association of Exhibitions and Events in Dallas. Beyond the obvious networking, learning, and sales opportunities, trade shows can also be an excellent place to launch a new company or product, Hacker says. I spoke to him recently for tips on how entrepreneurs can identify the right shows to attend and get the most out of them. Edited excerpts of our conversation follow.
After 9/11, and then again during the financial crisis, many people predicted that professional conventions and industry trade shows would become obsolete, replaced by videoconferencing and Web events. Has that happened?
The Internet is not doing anything at all to displace face-to-face events. In fact, demand for face-to-face is growing as a result of the Internet facilitating transactions and opportunities, and extending the show's reach before and after it occurs. We do get overreactions to terrible shocks and bad news, but people will always have the need to explore, travel, and meet others in person. That's just the way the human mind works. I might buy chew sticks for my dog or birdseed online, but I'm not going to buy a $12 million piece of heavy equipment on the Internet.
There are virtual trade shows, but no one's been able to figure out how to monetize them. They are not easy to do, and they require an awful lot of technology and human resources to pull off, so organizers are still struggling to come up with ways to cover that kind of expense.
Have trade shows recovered from the financial crisis and recession?
You can't really say how the industry is doing as a whole because you have to look at specific industries within the exhibition space. If you were to take a look at the typical home construction event today, it's not doing very well. Why should it? Nobody's building homes to speak of. The national automobile dealers events are literally half the size they were five years ago.
But you look at the energy space, especially alternative energy like wind and solar, and they are drawing 20,000 to 30,000 attendees at shows that are not even five years old. We measure metrics across 14 different industry sectors and we track 10,000 events in the U.S., including 7,000 professional events and 3,000 public events that draw between 20 and 30 million consumers annually. We are forecasting overall growth of 2.9 percent this year and 3 percent in 2013.
What do you tell would-be entrepreneurs about the best way to find a trade show and get the most out of attending?
It's important to set objectives first. Too many people go to these events without knowing what they want to get out of them, and the results they achieve are disappointing. It is easy to find online directories that list upcoming events by date, by industry, by show type, by region, and other specifics. Look into the details: If you want to do art photography, don't waste time and money going to a wedding photographers' show or a photojournalism event.
Next, find out who the exhibitors are, look at the floor plan online, and put together a daily agenda for which exhibitors you want to talk to and when. There can be hundreds of exhibits at big shows, so you don't want to run around helter-skelter trying to find booths. The real benefit is that you have a very efficient platform that aggregates all these people with similar interests under one roof, and they typically have the same broad objectives as the attendees. So you don't have to fly around the country talking to 15 or 20 different companies about carrying their products or selling them yours.
Aside from networking and selling, what other benefits do shows offer entrepreneurs?
Many shows have speakers and educational offerings, including workshops on how to start your own business in the industry or how to improve your sales. They are vetted by the show organizer, who wants to offer value to exhibitors and attendees so they'll achieve their objectives and come back. They profit over time by retaining as many people as possible.
Can you give some tips for small businesses that are considering exhibiting?
Don't overlook the exhibition as an excellent platform to launch a new business. Especially for small and medium-size enterprises, they are an enormously efficient way to gain market entry. With an established business, first decide what you want to achieve with your marketing budget for the year and what you're going to spend on trade shows vs. Internet and print and television advertising, say. Again, set objectives and find events where you can talk to buyers who will help you achieve those objectives.
Calculate how much space you'll need and how much staff you need to take based on how many buyers you want to touch over how many days. Get the attendee demographics and contacts from the show organizer and do pre-show promotions three months ahead of time, instead of just getting a big space and expecting the right people to magically come by.
After the show, thank them for meeting you, extend any discounts or promos you offered during the show for an additional 10 days, and let them know where they can reach you if they're interested.
How much does all this cost?
Many trade shows are free, but they're open only to qualified professionals. For those that charge admission, most are well under $500. Of course you have to factor in travel, accommodations, and time away from work, but you shouldn't think of it as an expense but an investment in your business.
If you're exhibiting and you're not careful and methodical about planning, you could spend a king's ransom and waste a lot of money. Inexperienced exhibitors do waste a lot, and it erodes their return on investment. I would say on the low end you'd expect to spend $2,000, and you could go up to five or six digits on the high end. Big companies spend millions on trade shows every year. For smaller companies, it's critical to make all of your purchases for supplies and services well in advance of the show. If you don't, the things you want will be out of stock, or they'll cost you double.
Before it's here, it's on the Bloomberg Terminal.
LEARN MORE