The Second Annual How To Issue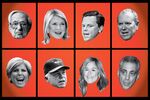 Think of this issue of Bloomberg Businessweek as a cocktail party. In the most obvious sense, it's all about the mix of guests. Our second annual How To special packs in CEOs, tech visionaries, U.S. senators, an NFL referee, an artist, and, for good measure, an 11-year-old and a 106-year-old. While the diversity of their accomplishments is impressive, it's their candor that makes this issue memorable. From the philosophical (Zynga's Mark Pincus on how to fail, musician Stefon Harris on how to improvise) to the managerial (Google's Marissa Mayer on avoiding burnout, Rahm Emanuel on motivating people) to the practical (Michael Kors on how to dress for work, Howard Schultz on brewing coffee at home), our guest contributors share their expertise with uncommon honesty and exuberance. So start mingling.
Before it's here, it's on the Bloomberg Terminal.
LEARN MORE