The IPO Market: More Deals, Smaller Prices
By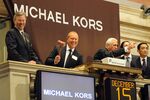 There's a nice little boom under way in the IPO market. This year saw the highest first-quarter IPO volume since 2007, with 44 companies raising a total of $5.8 billion, according to research by PricewaterhouseCoopers. Shares of 80 percent of those companies have risen from their initial price.
Most of those IPOs were backed by private equity or venture capital firms. "The capital markets are opening up a bit, and creating some nice exit opportunities for financial sponsors," Scott Gehsmann, a transaction services partner at PwC, said in a telephone interview. That should free up cash for private equity firms to make fresh investments. "That's the kind of churn you like to see," said Gehsmann.
The groundwork for most of those deals was laid back at the end of 2011. Since late October, deal activity rose 30 percent from the same period a year earlier, with 261 deals announced compared with 201, according to Bloomberg data. Though the number of first-quarter deals is up, they're much smaller than they were a year earlier. The average IPO in the first quarter of 2012 was $131 million, down from $395 million during the first three months of 2011, when a handful of companies filed IPOs of more than $1 billion, including HCA Holdings ($3.79 billion), Kinder Morgan ($2.86B), and Nielsen Holdings ($1.64B). The biggest deal so far this year has been Allison Transmission's $600 million public offering in March.
Though volatility has spiked recently, markets have been relatively calm over the last few months—something firms are keen to take advantage of before things get too choppy. "A lot of firms are trying to rush deals to market now," said Gehsmann, who helps private firms prepare to file IPOs. "We're busier than we've been in five years."
From October through the end of March, the Standard & Poor's 500-stock index rose nearly 30 percent. As a result, a lot of firms that went public either late last year or during the first quarter of this year have seen nice growth in their share prices. The best performers recently have been Michael Kors, Guidewire Software, and Proto Labs, all of which are up more than 100 percent.
That's not to say there haven't been some losers recently, most notably Groupon, whose stock price is down 32 percent since its $700 million IPO in November. Other bad performers include GasLog, down 21 percent since its $329 million IPO in March, and Matador Resources, down 7.5 percent since going public in February. "Deal activity is up, but I think new deals are still facing a fair amount of skepticism, largely on the performance of the IPOs that have come since late last year," says Jack Ablin, chief investment officer of Harris Private Bank. "My sense is that probably not all the winners paid for all the losers."
Before it's here, it's on the Bloomberg Terminal.
LEARN MORE