How to Build a 30-Story Hotel in 15 Days: Juliet Jiang
Juliet Jiang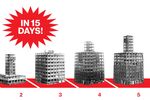 We make 93 percent of the building in our factory. The basic block, a "main board," is 3.9 meters by 15.6 meters (12.8 feet by 51.2 feet) and includes everything from water pipes and ventilation shafts down to floor tiles, lights, even toilets and the kitchen sink. It took about 45 days to prepare all the main boards for our most recent building, T30, a 30-story hotel near our factory. After that we trucked them to the site and built the whole thing in 360 hours. On site, we don't have any welding, no water, no dust. It's a very worker-friendly environment. Of course, the speed attracts attention, but actually what we want to highlight is the sustainability it represents.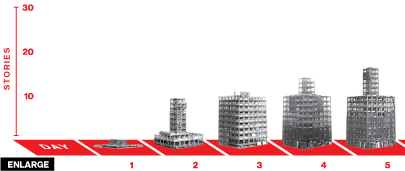 Our construction method creates 1 percent of the waste of a normal project. Our buildings are five times more energy efficient because we pre-install 15 centimeters (6 inches) of thermal insulation, use four-pane windows, and have systems that allow, for example, the elevator to generate power. The air quality inside is 20 times better—and you can see that because every room has its own monitor for particulates. We have a broad vision: We really want to mitigate climate change. We estimate that the T30 reduces carbon dioxide emissions by 2,000 metric tons a year, based on savings in electricity. In May we will put up a 50-story hotel in Changsha, the capital of Hunan, and a 105-floor building by the end of the year. Broad Group plans to build a $1.6 billion low-carbon community, working together with the government and other investors. The project will include a 200-story building that can accommodate 100,000 people. It will include everything—kindergarten, elementary school, high school, university, big companies, hospitals, shopping malls, parks, you name it. Anyway, many buildings are coming. — As told to Dune Lawrence 
Before it's here, it's on the Bloomberg Terminal.
LEARN MORE