Are Boomer Entrepreneurs Preparing to Cash Out?
by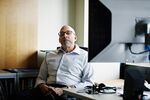 This could be another sign that the small business economy is recovering: Private company acquisitions on business-for-sale marketplace BizBuySell.com hit their highest levels in more than three years, according to data it recently released.
Closed transactions increased by nearly 4 percent in the first quarter of 2012, compared to the same time period last year. "This is now a new high watermark since 2008," says BizBuySell general manager Curtis Kroeker. "The mix [of businesses] is relatively stable; the increase in transactions is not driven by one particular sector—it's more widespread across the economy and therefore more reflective of the larger economic and marketplace factors." (Disclosure: BizBuySell advertises its listings on Businessweek.com.)
What's prompting the uptick? Most important, small businesses' revenue and cash flow have been steadily improving since mid-2010, Kroeker says. Sellers are also dropping prices; the median was $150,000 in the first quarter of 2012, making them attractive to unemployed individuals hoping to buy themselves jobs—or deeper-pocketed folks trying to snap up bargains. And the oldest boomers are turning 65 at a rate of about 10,000 a day now, eliciting predictions that they'll flood the market with their businesses as they retire. "There's a lot of those guys who have been wanting to sell potentially for some time now," Kroeker said. "[That] bodes well for more transactions taking place as the economic situation improves."
Tax considerations also have a lot to do with the uptick, says Sean Samet, director of operations at the International Business Brokers Association in Chicago, which has about 1,000 members. He saw Main Street activity start to rebound in mid-2011. "There's continued concern about the raising of taxes, whether it's capital gains or even just corporate taxes," says Samet, pointing to election-year anxiety about whether the Bush tax cuts will finally be repealed. "People are preparing again to maybe sell now because they feel that tax rates will be increasing in the future."
Of course, the private company-for-sale market isn't back to its pre-recession level. "It's just not the same as it was before, which is probably a good thing," Samet says. "There are a lot more hurdles to get access to capital—even though it's there."
Before it's here, it's on the Bloomberg Terminal.
LEARN MORE