Apple and the Revenge of the Phone Carriers
By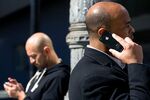 Is Apple merely mortal?
Apple is the largest, most dominant and highly valued company on the planet. It's measured against entire gross national products. Doubt it at your peril. And yet Apple does not control its own destiny. After all, the company counts on wireless carriers to connect and help market its iPhones. What if the likes of AT&T, Verizon Wireless, and Sprint (combined worth: roughly half of Apple) don't necessarily like the idea of just getting by financially while the Cha-chinger of Cupertino hordes spectacular profits? What if they wise up and realize they can earn a bigger cut of the recurring windfall every time Apple upgrades its hardware? Or just slow the iPhone's aggressive upgrade cycle to protect their own profits?
It's a grain of kosher salt being offered by analyst Walter Piecyk of brokerage BTIG, who is sounding a rare cautionary call on Apple (which Wall Street rates with 49 Buys, 7 Holds—including Piecyk—and just 1 Sell). On Monday he downgraded the stock to Neutral from Buy (Blasphème, mon camarade!) on the fear that the carriers will get their act together this year to defend their profitability.
"The iPhone," says Piecyk, "is squeezing margins at wireless operators." He explains how the carriers' subsidies, which average about $450 a pop, have fueled the huge success of Apple's $600 iPhone since it launched five years ago. Originally, the wireless operators were happy to chip in; the iPhone was a boon to the data portion of subscribers' average monthly bills. Those bills had been falling for decades, what with the advent of "nights & weekends" plans and cheapo prepaid carriers. "But," he writes, "the cost to drive that gain is now starting to eat away at profitability and the performance of those stocks. Operators, unwilling to stall the pace of that growth, offered generous upgrade policies including some that enabled a fully subsidized phone upgrade only one year into a two-year contract." The faster upgrade rate of smartphones—especially the iPhone—compared with old handsets has blindsided them.
Piecyk duly predicts wireless operators will increasingly move to hold back the rising phone upgrade rates that are hurting their margins—which is by extension a threat to Apple.
Case in point: Verizon just announced that on April 22 it will start charging existing customers $30 to upgrade to a new phone. Piecyk's reaction: "Could it be long before smartphones get their own additional upgrade 'surcharge'?" Sprint, he noted, slapped a $10 surcharge on 4G rate plans that it later extended to all smartphones. Upgrade fees like these, he explains, let carriers advertise a fully subsidized cost while reducing the impact on sales by labeling it an upgrade fee. And they illustrate a desire to grab back profit margin.
To illustrate the stakes, Piecyk looked at the evolution of AT&T's relationship with Apple, which began with the iPhone launch in 2007. After five years of gains, he says, AT&T's margins hit a six-year low.
In early 2005, when Cingular had just completed the acquisition of the old AT&T Wireless, the latter's Ebitda margins were at 25.5 percent. Over the next five years, AT&T took those margins to over 44 percent. Piecyk notes that when Apple introduced the iPhone 4 in 2010, "AT&T felt the full brunt of the impact on its margins which fell back under 40 percent as the quarterly upgrade rate spiked." By the time the iPhone 4S was rolled out at the end of 2011, AT&T's wireless margins dropped under 30 percent for the first time since Cingular and AT&T Wireless joined up. That cannot be good for a Ma Bell still grappling with the long decline of its once-core and safe landline business.
Piecyk writes that AT&T management made a pledge on its quarterly earnings call to return wireless margins to more than 40 percent in 2012—"and to get there by stopping the 30 percent growth in smartphone sales dead in its tracks." He estimates that AT&T's upgrade rate would have to drop to 8 percent per quarter—a low not seen since at least a year before the first iPhone was launched—in order for it to achieve its goal of selling just 25 million smartphones. "That," he writes, "would be a notable change and one that Apple investors should be watching carefully as it would likely imply a decline in iPhone sales at AT&T for the year."
The alternatives for iPhone users wanting to avoid meddling and nickle-and-diming from AT&T, et al., are not great. Few people out there would pay full price on a $600 smartphone, and do so again when the new one comes out in less than a year, just to stay out of a two-year contract. Piecyk says Apple could try to grow its business in prepaid wireless, which is big among emerging markets and lower-income customers. But handset subsidies are hard to find in that space, and the iPhone's $600 sticker price "represents a big chunk of a household's monthly income."
Meanwhile, he expects "wireless operators to try even harder to promote alternatives to Apple … as they increasingly fear Apple's stranglehold on their margins." The Piecyk upshot: "If there was a year to push back on Apple," he writes, "this would be the year."
Meanwhile No. 2: There are people on Wall Street who think Apple is on an unstoppable path to a trillion-dollar market valuation, thank you, Mr. Piecyk.
Realizing he is in the lonely minority on the stock of the era, Piecyk closes his note with a delightful bit of "disclaimery" introspection:
Am I an Apple hater?
I am completely bought into the Apple ecosystem. Our family of six owns 4 iPads, 2 iPhones, 1 iPod Touch, 2 MacBooks, 1 iMac and two Apple TV's; and that is just the stuff in active use. After dinner, the kids prefer to stream YouTube or play games on the iPads rather than watch the tons of available programming stored on the networked DirecTV HD DVRs. As I wrote in a note earlier this year, the Kindle Fire garnered no interest from anyone in the family. Right now I am streaming Spotify from my iPad through my Apple TV into my sound system with no incremental setup required. I can't do that with my Xbox or my DTV box or through my Android phone.
I believe that the iPhone is currently the best smartphone on the market by a wide margin. For the past two years I have used 4 different Android phones as a primary phone in order to evaluate Google's products … I have no idea why anyone in the United States would choose to buy any smartphone other than an iPhone unless they do not qualify for a two-year contract or cannot afford the high (and rising) monthly charges of the postpaid operator.
So clearly I'm not a hater, but I also understand that the broad market is not all Apple Fan Boys like me.
Before it's here, it's on the Bloomberg Terminal.
LEARN MORE