Wanted: Help to Restore the NCAA's Good Name
by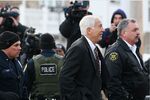 Wanted: advertising agency to burnish the image of a high-profile not-for-profit with a serious reputation problem. Ad Age reported this week that the NCAA has sent out a request for proposals for a new agency to help spread the good word about college sports. "We're seeking to move to a more multiplatform approach beyond just television, and any time you significantly change the scope of work, our policy here is that you go out to market," says NCAA spokeswoman Amy Dunham.
The request includes a sideways acknowledgement of the bad press that has dogged the NCAA over the past two years: "Market research and media analytics show that misperceptions persist and opportunities exist to inform public opinion, increase confidence in the association, and boost awareness and advocacy for the positive values of intercollegiate athletics."
To quote George Orwell, "such phraseology is needed if one wants to name things without calling up mental pictures of them." Here's a partial list of mental pictures the NCAA would rather you didn't call up:
• The former Arkansas football coach, a married man and father of four, crashing his motorcycle with his 25-year-old mistress (a former student he'd given $20,000 and a job) on board
• Ohio State football players trading team memorabilia for tattoos while their coach looks the other way
• A University of Miami football booster saying he paid for jewelry, yacht cruises, prostitutes, and, in one case, an abortion on behalf of players
• The chief executive of the Fiesta Bowl funneling money to politicians and expensing a $1,200 tab at a strip club because "big strong athletes are known to attend these types of establishments"
• A USC running back, appearing drunk outside a Los Angeles nightclub, telling celebrity gossip site TMZ that "we all gettin' Kim Kardashian" and that he gets paid more by the school than he would in the NFL
• An audiotape, surfacing nine years after the fact, of the wife of a Syracuse assistant basketball coach apparently admitting that he has molested young boys; and a Penn State assistant football coach claiming that he saw a former defensive coordinator raping a 10-year-old boy in a locker room shower—and nobody saying anything to the police for eight years
Dunham says that "misperceptions" is not a reference to scandal, but to good works being overlooked. "People associate us with the championships that we put on, but less so with our education mission," she says, "Many members of the public don't know that the NCAA and its Division I and II members provide $2 billion in [college] scholarships, which is second only to the federal government." Dunham also points to the steady increase in the graduation rates and academic performance of college athletes over the last 20 years.
Still, getting the public to pay attention to such admirable works isn't made easier by a parade of corruption and abuse. "It was almost as if the stars had aligned that the NCAA was going to get whipped," says Andrew Zimbalist, an economist at Smith College and frequent critic of the NCAA, when I ask about the cascade of bad news last fall. And that was before the Arkansas mess. Scandal, of course, is nothing new to the NCAA (see: Southern Methodist University, the Fab Five, the Texas A&M bonfire, the Baylor basketball murder, Reggie Bush, Cam Newton), but now, one media outlet after another is making the case that the steady drumbeat of rule breaking amounts to systemic failure.
HBO's Real Sports kicked things off last year with a special report titled "Dirty Money" in the same week as PBS's Frontline investigation into "Money & March Madness." These were followed by ESPN's "Blueprint for Change" roundtable and, in October, a 14,000-word cover story by Taylor Branch in the Atlantic titled "The Shame of College Sports." Then Grantland's Charles P. Pierce and Joe Nocera of the New York Times took up the cause. "For the first time in all the years we've been advocating, we didn't see a lull in the media looking at these issues," says Ramogi Huma, a former UCLA linebacker and president of the National College Players Assn. "Usually it peaks at March Madness and the bowl season, and we never hear anything in the summer. But it just escalated."
Six years ago, a poll conducted by the Knight Commission on Intercollegiate Athletics found that 73 percent of Americans believe that "college sports as big business conflicts with the values of higher education." And in a November poll (PDF) by Widmeyer Communications, 90 percent of respondents said that "the culture of big money that has developed around Division 1 college sports in the past 20 years" was a factor in the inaction by Penn State officials in the Jerry Sandusky sex-assault scandal. "It's something that just cries out for reform," says William E. Kirwan, chancellor of the University System of Maryland and co-chair of the Knight Commission, which works to keep college sports programs within the larger mission of the universities. "If we stay on this current trajectory, intercollegiate athletics is going to run into a wall."
So good luck to whoever wins the NCAA account. You'll get $2.5 million for two years of work and all the "misperceptions" you can handle.
Before it's here, it's on the Bloomberg Terminal.
LEARN MORE