Patagonia Swims Upstream With New Salmon Jerky
The outdoor gear and apparel company rolls out its line of sustainable foods
By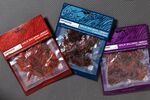 It has been a dozen years since Patagonia blazed a trail with efforts to increase the apparel industry's use of organic cotton. Now, the company is setting its sights beyond apparel and outdoor gear to transform the packaged-food industry. Today with the introduction of three flavors of Wild Salmon Jerky, it's launching Patagonia Provisions, a new line of sustainable foods. Bloomberg Businessweek spoke with Eric Neuron, who is heading up the effort, to learn how the company is managing spawning seasons, selecting jerky flavors, and trying to save a salmon species in the process.
This is a far cry from clothes and gear. What's the history behind this effort?
Ever since our founder, Yvon Chouinard, started selling clothes, he was always really interested in the food. He's a climber—and in rock climbing, it can take days to scale a mountain and you can only take so much weight with you. So he spent a lot of time thinking about how he packs food and what food he brings with him.
What did it take to source this new product?
Yvon developed relationships in the Skeena watershed in Northern British Columbia, which has no dams. Millions and millions of wild fish still come through, but they are being threatened, just like they are in the rest of the world. We've partnered with the Kossler family along the watershed, and we've helped fund a processing facility to create value-added salmon products like salmon jerky. What we are trying to do is to show the industry that we are only using methods where there is little "by-catch" [in which non-target fish get caught in commercial nets] and are catching upstream of the stocks that are threatened. We hope to push the industry away from farming because it's one of the biggest threats to wild salmon. They produce a ton of disease in the farms, and when the wild salmon swim past the farms, they get sick with things like fish leukemia. [Patagonia has posted a video with further info on the sourcing.]
What's the production process like?
Salmon typically run in August and there is a short window to do all of the sourcing. You have to figure out how much fish you want in advance. We also had to make sure that the fish we caught don't mix with the fish that we don't want and that aren't sustainable, so we control the logistics. We work with the local indigenous peoples to pull the fish out, get them on refrigerated trucks and to our facility as quickly as possible. We will be launching on the Web [today] and we are already in about six or seven of our stores and will be in all of our stores in the U.S. in a few months.
Patagonia tried launching Provisions last year and then delayed the effort. What went wrong?
Startups are hard to do, especially with something that is outside of your core competencies. We were rushing to get everything done and were putting it up on our website [for advance sales] when we all found out there was MSG in the sauce for the jerky. We immediately pulled it down off the website, and no product was made with the sauce. We went back and made sure that all of the recipes were what we wanted, with good ingredients that are good for you. Very simple.
You're launching with salmon jerky. What other products are you going to offer?
We're starting with jerky because it's shelf-stable, so we can push them through our own channels. Our facility can make both cold-smoked and hot-smoked products, and we're trying to figure out some distribution networks for that. We don't have to jump right in and we may not do it at all. We don't want to get into the business of having to overnight food all over the world and keeping things cold.
What does it taste like?
We've got a smoked pepper, a smoked teriyaki, and a smoked chili pepper. It's not necessarily fishy. It's not too far off from beef jerky. It's almost pure protein, it's lightweight, and you can retain all of the omega 3s when you smoke it. Yvon calls it the best mountain food.