MBA Journal: The Internship-Recruiting Cycle
Lindsay Miller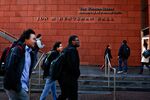 If you sensed a disturbance in the air sometime around late January, it was Hurricane Recruiting touching down at Wharton. With the force of a thousand cover letters, she swept through University City, swirling students into and out of bland, windowless rooms known misleadingly as on-campus recruiting suites, leaving a trail of business cards and thank you e-mails in her wake.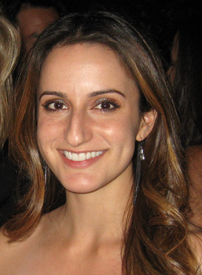 When we last checked in regarding recruiting in January, I was just starting to apply for marketing jobs and was feeling anxious in the process. Back in November and December, I had attended about a dozen employer-information sessions, which were helpful and informative, as well as time-consuming and kind of nerve-wracking, particularly during meet-and-greet time at the end. I learned a lot about myself through this process—namely, that my reaction to formal social circumstances is to think of all the completely inappropriate things I could say and then try desperately not to say them.
The purpose of these on-campus speed dating sessions and company visits was in theory to help us decide which companies were a good fit, but there was a sizable "show your interest" component, too. It was clear that, though interviews were still a few months off, the evaluation had already begun.
I should probably note that not everyone in my class was going through this with me. Many students opt out of the on-campus recruiting process entirely, in favor of a more individual hunt or an "enterprise" search occurring later in the year. Certain industries or smaller companies lack the resources or desire to conduct an intern-scouting mission. Some students do both types of search. Without knowing where my internship would ultimately arise, I figured that on-campus recruiting was a strong possibility at best—because there were lots of postings for marketing positions in consumer packaged goods, retail, and tech—and great practice at worst.
All on-campus recruiting activity takes place through Wharton's CareerPath portal. Companies post their open positions; students submit their résumés and cover letters and then get notified about (and schedule) interviews. There's not a lot of suspense in these notifications, in case you were wondering. You wake up to an e-mail sent at about 4:30 a.m. with one of two subject lines: "You have been invited to interview with…" or "Not invited to interview with…" By the end of it, I began to yearn for a little dramatic flair—perhaps an Oscar-style envelope or at the very least, a rumbling tympani roll.
I started my job search broadly, cobbling together a list of all the jobs I'd possibly be interested in and whittling down from there. Prior to this, I'd never even read a cover letter, let alone written one, and there was a steep learning curve involved. Let's just say the "bullet point method" wasn't just appealing for its ease of reading—it also meant I didn't have to write as much.
My newfound quantitative skills eventually helped me deduce that there were two ways to make cover-letter progress: 1) increase numerator or 2) decrease denominator. Seventeen became 15, which became 12, and I ultimately applied to eight companies through CareerPath and two outside of it.
Because of all the schmoozing I'd done earlier in the year, I don't really know how much impact my cover letters had as stand-alone documents. I will say that once I got in the groove of things, it was way less painful than expected. I had a high application-to-interview yield; all but two of the companies I applied to gave me a shot.
The interviews ranged in character and intensity: One round or two? One-on-one or two-on-one? Case questions or behavioral? Again, less painful than I expected, aided significantly by the fact that Wharton shuts down for the whole week in observance of DIP—the Dedicated Interview Period—so I didn't have class work on top of it all. (Remember those "enterprise" students from earlier? Some of them were enjoying a Dedicated Floridian Sunbathing Period.)
Something that surprised me was how much transparency there was in the process. We always knew exactly who else was interviewing for the same position, which I initially found a little awkward. It's interesting, though—for such an implicitly competitive process, I saw none of the jealousy, cattiness, or bitterness that I expected to see. To be clear, I expected to see it from myself as much as from anyone else, but it really didn't come up.
By the time we'd made it this far in the process, we'd all done the calculations on how many spots were available at each company vs. how many of us there were. We'd all prepped each other for interviews in close-knit groups. When we started getting dinged for second rounds or not receiving offers while our friends did, it wasn't a great feeling, but it was OK.
I'd been encouraged to ask for feedback from the companies that turned me down; while a useful professional exercise, it is also tremendously uncomfortable. My informality turned some off, but then again, one of my offers came out of a meeting in which my interviewer called me a name I doubt I could get past my editor (something like "smart aleck"), so it's hard to say what the real take-away is.
I'm excited and humbled to announce that I'll be joining the Procter & Gamble marketing team as an assistant brand manager intern this summer. It's funny: After all we went through, it's starting to set in that these things we all wanted so badly are, in fact, jobs—the very things we couldn't wait to get away from for two years. I'm ready for 12 great weeks, though, and I'm looking forward to telling you how it goes. Wish me luck.
In between journal entries, you can keep track of Lindsay's business school adventures at the Business Schools Facebook page. Follow the Bloomberg Businessweek B-Schools team on Twitter.
Before it's here, it's on the Bloomberg Terminal.
LEARN MORE