Frankenstein's Fraudster Sentenced to 6.5 Years in Prison
By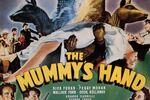 If there is one thing that scares collectors of classic horror-movie memorabilia, it's getting scammed. Kerry Haggard is being called the "Bernie Madoff of the movie-poster industry." The 47-year-old con man paid an unnamed New York City printing company to make high-quality ink-jet copies of vintage monster-movie posters to sell online, and traded the fake one-sheets with friends and fellow collectors for authentic ones, reported the New York Post.
On April 9, in Manhattan federal court, the Commerce (Ga.) resident was sentenced to the maximum 6.5 years in prison and ordered to pay $1.38 million to his victims.
Haggard engaged in the fraud for more than three years, from January 2006 to August 2009, according to the U.S. Attorney's Office. Several lawsuits were filed against him starting in 2009, though he filed for bankruptcy that December, slowing the proceedings. In April 2010, he was arrested in Georgia by federal authorities and released on $100,000 bond within a week, reported the Athens Banner-Herald. The tenacious fraudster did not stop there. In March 2011, Haggard was arrested again after FBI agents discovered he had asked an acquaintance to hide items that were involved in the fraud. He also enlisted help to sell 81 movie posters, of which 80 were authentic, while he was out on bond. On Oct. 24, 2011, he pleaded guilty to one count of mail fraud.
His counterfeit lobby cards and posters included The Mummy, Frankenstein, The Mummy's Hand, Murders in the Rue Morgue, and Werewolf of London, which were airbrushed and otherwise altered to appear authentic. Using sites like EBay, Haggard sold posters for $500 (for a Mummy's Tomb lobby card, for example) to $5,000 (for Son of Frankenstein) to about 25 victims.
Two victims in the complaint against Haggard said they had consigned fake posters to Heritage Auctions, which discovered the fraud. "The fakes were very clever and difficult to detect in this instance," says Grey Smith, director of movie posters at Heritage Auctions. Black light and backlighting were used to determine they were forgeries. "The obvious marks of a fake? Paper stocks, i.e., quality of paper, was an obvious sign that tipped us off. Clarity of the reproduced image was also a factor in denoting the fakes."
David A. Lieberman, owner and founder of Cinemasterpieces.com, a movie-poster dealer in Scottsdale, Ariz., says a client had sent him one of Haggard's fake posters for the 1943 film Frankenstein Meets the Wolf Man on consignment over two years ago. "I have a good eye, and it did fool me," he says. He sent it back when he heard about the fraud. A real version of the poster is on sale on Cinemasterpieces.com for $15,995. "It's very clever; he fooled the best people in the business. Thank God I didn't get taken for any money," says Lieberman.
Vintage movie posters fetch huge sums from collectors. The most expensive movie poster features the 1927 sci-fi film Metropolis; it sold for $690,000 in 2005, reported Vanity Fair. The second-highest price was for a poster for the 1932 film The Mummy, which went for $452,000 in 1997.
Smith adds, "I was sent a Dracula title card and, with that copy, was able to determine it was a forgery. Another authentic copy sold through us in November of 2007 for $65,750."
Lieberman says Haggard is getting what he deserves. "But hey, he was good at it," he says. "He was a great counterfeiter."