Why a 13-Inch Tablet Is a Big, Risky Bet for Toshiba
Kevin C. Tofel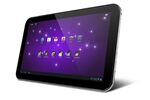 A trio of new Toshiba tablets is on the way, allowing consumers to shop by size: small, medium, and large. The 7.7- and 10-inch models are now joined by Toshiba's (6502:JP) Excite 13, which offers more than a foot of screen real estate in a 2.2 pound touchscreen package. With the large display, however, comes a large price: The Excite 13 will start at $649.99 when it arrives on June 10.
The premium price tag for a Wi-Fi-only model does buy a higher-resolution display. Toshiba's large slate uses a laptop-like resolution of 1600 x 900. The Excite 13 also runs on a quad-core processor: Nvidia's Tegra 3 with its 12 graphics cores will be pushing all those pixels. My testing of the Asus (2357:TT) Transformer Prime, running on the same chip, revealed a powerful overall performer, especially in the graphics department.
Like its new smaller brothers, the Excite 13 will use Android 4.0, which I have found to be a solid improvement over the prior Google Android platform for tablets. The only question remaining in my mind is: What's the market for a tablet of this size? As I see it, there are two likely uses for a 13-inch slate weighing 2.2 pounds. One is around the home and the other is for people who can make this device a true laptop replacement.
Clearly, Toshiba thinks the first example is perfect for the Excite 13: The slate come with a stand that is useful for propping up the large slab. Think of this as a household tablet that typically resides in the kitchen or on a coffee table; it's great for reading recipes or Twitter streams while watching a sporting event, for example. The idea makes sense, given that most tablet owners use the devices at home more than on the move.
In theory, you could tote this tablet. After all, 2.2 pounds is lighter than most notebooks and netbooks. The only problems I see are the lack of integrated mobile broadband and Android's limitations as a full laptop replacement. For light use or for certain tasks, the Excite 13 could be a primary device for some—but it isn't for most users yet. You will also need to be near a wireless hotspot or bring your own on the road. Nor would I count on holding and using the slate for any length of time, due to its weight.
The biggest challenge I see, even for potential customers whose usage fits into the scenarios described, is the price. With a $649 price tag, the Excite 13 is well into the notebook's cost bracket. Yes, there are already tablets priced that high—or more—but they're lighter, smaller, and easier to tote around. It's not that Toshiba won't sell $649 tablets. I'm sure it will. But the return on the company's investment seems very limited for a large slate with a big price because it won't sell that many.
Also from GigaOM:
Mobile Video's Future Threatened by Bad Reception (subscription required) [http://pro.gigaom.com/2012/03/mobile-videos-future-threatened-by-bad-reception/]
A Growing Wind Farm in Alaska Looks to Batteries
[http://gigaom.com/cleantech/a-growing-wind-farm-in-alaska-looks-to-batteries/]
Google Launches the "Power of the Internet" Campaign
[http://gigaom.com/broadband/google-launches-the-power-of-the-internet-campaign/]
Behind the Netflix PAC: a Broadband Power Play
[http://gigaom.com/2012/04/09/behind-the-netflix-pac-a-broadband-power-play/]
Facebook's Instagram Deal — Bubble Indicator or Smart Acquisition?
[http://gigaom.com/2012/04/09/what-the-web-is-saying-about-facebook-buying-instagram/]
Before it's here, it's on the Bloomberg Terminal.
LEARN MORE