Small Business Confidence May Mean Bad News for Jobs
by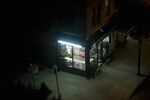 Business owners' wavering confidence in the economy may signal more trouble ahead for the job market.
Small business optimism declined last month after six months of gains, according to today's report from the National Federation of Independent Business. The net percentage of businesses that planned to increase their workforces dropped to zero, the lowest level since May 2011, and down from 4 percent the month before.
Small businesses create 65 percent of net new jobs, with most of that coming from a relatively small group of fast-growing companies, according to the Small Business Administration. After last week's Department of Labor report showed the U.S. added just 120,000 new jobs in March, below expectations, how worried should we be?
"Next month, if we see the same data and it tracks March, then we expect the unemployment rate will add half a point" in the second quarter, says Holly Wade, the NFIB's senior policy analyst who co-authored their report. "Over the last few decades, they've matched up pretty well," she says. U.S. unemployment, at a seasonally adjusted 8.2 percent, has declined from 9.1 percent last summer.
Other data point to a brighter employment picture. In March, small employers boosted payrolls by the most in two years, according to the Intuit Small Business Employment Index, which aggregates data for companies with fewer than 20 workers that use Intuit's online payroll software. "Our numbers are the best numbers I've seen since the expansion began," says Susan Woodward of Sand Hill Econometrics, who worked with Intuit to create the index.
Woodward notes that the businesses in the NFIB's survey may include larger companies, including manufacturers and exporters, that are more directly affected by the European debt crisis or slowing growth in China. The Intuit numbers reflect "really small businesses, and there are no enterprises among them," she says.
The NFIB's report, based on responses from 757 of the group's members surveyed in March, reveals confidence among these firms is still at levels typical of a recession. The reversal in the gauge shows business owners still doubt the strength of the recovery, Wade says. "It's hard to see consistency in the economy as a whole for owners and to know what the next month will look like," she says. "At this stage, you would think we would be on some sort of trajectory that has a pattern to it, and the pattern seems to be hills and valleys."
Before it's here, it's on the Bloomberg Terminal.
LEARN MORE