Rick Santorum May Think Dropping Out Will Help Set Him Up for 2016. He's Wrong
By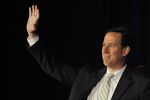 Two years ago, Rick Santorum was a has-been: He did some lobbying, hooked up with a think tank, and sat on a few boards but was known primarily for the magnitude of the loss he'd suffered in his 2006 Senate campaign—an 18-point drubbing—after Pennsylvanians decided he didn't deserve a third term. What little influence he had in politics derived mainly from his position as the regular Friday guest host on Bill Bennett's talk radio show.
Today, Santorum is a national figure and, until he dropped out this afternoon, was Mitt Romney's only serious competitor for the Republican presidential nomination. His political comeback was nothing short of miraculous. He came from nowhere to win a string of primaries and caucuses, briefly threaten Romney's chance at the White House, and become the standard-bearer for the conservative cause—all with a bare-bones campaign staff and a shoestring budget.
But in recent weeks, Romney emerged as the prohibitive favorite, and Santorum seems to have submitted to the growing calls from conservative leaders—and many media commentators—to quit the race. It could be that Santorum, recognizing his long odds of winning, simply decided it wasn't worth pressing on. But if he quit for the two reasons most commonly put forward by pundits and Romney supporters, he may come to regret his decision.
The first argument for dropping out was that by staying in the race, Santorum was jeopardizing his future political viability, in particular his shot at winning the 2016 Republican nomination, should President Barack Obama go on to win reelection. Having built up support and goodwill with conservatives across the country, this argument went, he risked squandering his new standing by continuing to challenge, and potentially weaken, the party's likely nominee. Better to bow out, fall into line, and start thinking about next time.
This is the kind of Washington conventional wisdom that sounds reasonable but doesn't hold up to scrutiny. Impressive as his performance was, Santorum triumphed over the likes of Herman Cain, Michele Bachmann, Newt Gingrich, and Rick Perry—clowns and pretenders who made up the weakest Republican field in recent memory. Most of the party's top prospects, such as Jeb Bush, Bobby Jindal, Mitch Daniels, and Chris Christie, opted not to challenge an incumbent president. But if Obama wins another term, most of them are expected to run in 2016. That would pit Santorum against a much more formidable field. Given his problems raising money this time, he'd have little hope against much stronger competition four years from now.
The other reason some Republicans said Santorum should drop out was that it's best for the conservative movement. This, too, is far from certain. More than most elected officials, Santorum has put principle ahead of his own political self-interest (often to his detriment). When it became clear in 2006 that he faced a difficult reelection, he didn't trim his positions or attempt a political makeover to try to win over moderates and liberals. He stuck to his guns and paid the price for it, seemingly without regret.
Santorum's influence over the Republican Party diminished the moment he quit the race. If ever there was a certainty in politics, it's that Mitt Romney is not going to emulate Santorum's principled loss on behalf of conservatism. By staying in the race, Santorum could have forestalled Romney's "Etch A Sketch" moment when Mitt pivots to the center to broaden his appeal.
Ultimately, he chose not to. That's a relief to the Romney campaign, and to the Republican establishment. But it doesn't mean Santorum has a bright future in politics—or even much influence over the remainder of the campaign.
Before it's here, it's on the Bloomberg Terminal.
LEARN MORE