Bo Xilai's Fall Complicates China's Leadership Transition
by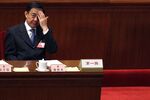 Former high-flying conservative Bo Xilai has been suspended from China's Central Committee, a 200-plus-member top leadership body, as well as the more powerful Politburo, now with two dozen members. The charge: "suspected of being involved in serious discipline violations," said Xinhua news agency on April 10. And in a stunning development, the state news agency also announced that Bo's wife, Gu Kailai, and an orderly from the Bo household are "highly suspected" in the homicide of a British businessman who died in Chongqing last November.
It is the biggest political scandal to hit China in years. It destroys any possibility of a smooth transition to the next generation of top leaders slated to take control at the National Party Congress, which will happen this fall. That had been the intention of China's party brass, eager to present a unified face to the world. And it ends the career of the 62-year-old former party secretary and princeling—son of a Communist Party revolutionary—whose once-likely ascension to China's Standing Committee would have made him one of the nine most powerful men in the country.
For Bo, it is an ignominious end to a career that earned him occasional kudos and plenty of enemies. He was praised for creating one of China's most livable cities when he ran coastal Dalian in the 1990s. As minister of commerce from 2004 to 2007, he earned few friends among the foreign business community while gaining a reputation as a nationalist who favored Chinese state enterprises.
Bo's prospects of reaching top office faded when his former chief of police, Wang Lijun, fled to the U.S. consulate in Chengdu, Sichuan, in an apparent failed bid for political asylum. Now it appears Wang carried with him explosive allegations about Bo's wife's involvement in the Chongqing murder, effectively ending any possibility of Bo ever being promoted again. The unfolding scandal saw him replaced as Chongqing's party secretary earlier, on March 15.
Still, until today's announcements, it was unclear if Bo might avoid serious censure. With jail now a real possibility, that's no longer the case. Indeed, over the last month, rumors have swirled in Beijing's rambunctious blogosphere that a faction had arisen, led by Zhou Yongkang, a Standing Committee member in charge of law and order, to support Bo and the neo-conservative policies he promoted (christened the Chongqing model). Websites such as neo-Maoist Utopia posted hundreds of articles supporting Bo and the Chongqing model before it was shut on April 6.
What those sites supported was the Chongqing model's emphasis on ensuring a leading role for the government in running the economy, which included giving favored positions to large state enterprises. Also touted: Chongqing's top-down push to ensure greater social equality, partly by building subsidized housing for the poor, the singing of "red songs" from China's Maoist past, and an aggressive crackdown on crime.
"As Chairman Mao said as he was building the nation, the goal of our building a socialist society is to make sure that everyone has a job to do and food to eat, that everybody is wealthy together," Bo said on March 9, before his dismissal, during last month's National People's Congress. "If only a few people are rich, then we'll slide into capitalism. We've failed. If a new capitalist class is created, then we'll really have turned onto a wrong road."
Bo's assault on crime, a campaign called dahei—literally, "hit black" ("black society" being the phrase for organized crime or mafia in China)—put more than 2,000 people in jail in the southwestern municipality of 30 million people and earned him the support of many average Chinese who are concerned about social stability. These moves also raised the ire of Chinese intellectuals and party members, who saw them as a regressive step back to a less open and more dogma-ruled China. Bo's use of a populist-style campaign in his bid to gain a seat on the Standing Committee also deeply disturbed other leaders, who prefer the backdoor deal-making approach common in China that rewards party functionaries for keeping a low profile.
What comes next is unclear. Bo's wife, Gu Kailai (referred to as Bogu Kailai in the Xinhua report), was once on "good terms" with Neil Heywood, who is believed to have helped the family's son when he studied in England. "However, they had a conflict over economic interests," Xinhua reported. Now, Bo's wife has "been transferred to judicial authorities on suspected crime of intentional homicide," it continued. There is no suggestion that Bo himself was involved in the alleged murder.
In a separate Xinhua piece, it was announced that the party's flagship paper, the People's Daily, will run a special commentary on the case on April 11. "Based on the facts made public so far, the Wang Lijun incident is a serious political event leaving very negative impacts at home and abroad, and the death of Neil Heywood is a serious criminal case involving the family and close staff of a Party and state leader, the [People's Daily] article says. Bo has seriously violated the Party discipline, causing damage to the cause and the image of the Party and state, it says," according to the Xinhua report on the upcoming commentary. "China is a socialist country ruled by law, and the sanctity and authority of law shall not be trampled. Whoever has broken the law will be handled in accordance with law and will not be tolerated, no matter who is involved and no matter what position he is in."
Before it's here, it's on the Bloomberg Terminal.
LEARN MORE