What Wall Street Sees in the Yellow Pages
by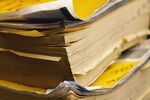 Doing your shopping via large paperbound books may seem like an ancient technology, but some investors still see the old-style telephone directories as a moneymaker. This morning, AT&T announced it's selling a majority stake in its Yellow Pages unit to private equity giant Cerberus Capital Management in a deal that values the business at about $1.4 billion. Cerberus is paying about $750 million in cash and is giving AT&T a $200 million note in exchange for 53 percent of the Yellow Pages. AT&T will retain the remaining stake.
AT&T is following other telcos, including Sprint, Verizon, and Qwest Communications (now part of CenturyLink), which have all spun off or sold their directory operations, some as long as a decade ago. They've been fleeing the industry as it declines; since 2007, print revenue has decreased by $7.3 billion as such websites as Yelp, Google, and Groupon have taken over the market for small business ads. Directories have been able to offset only about $2 billion of that loss by building up a digital presence through websites and mobile apps, according to data from BIA/Kelsey.
So why would a private equity firm want a dead-tree product with little future? In a simple word: cash. As Bloomberg Businessweek reportedin March, the industry still prints 422 million directories a year, and businesses still pay almost $7 billion to advertise in them. AT&T's Yellow Pages publishes 1,200 directories in 22 states. Rita McGrath, an associate professor at Columbia Business School, explained last month that while private equity investors often look for companies they can turn around, that probably isn't what drew them to the Yellow Pages. Instead, they may be hoping to earn a decent return on their investment as the business shrinks. "This one is like a cash register—it just dribbles out on an ongoing basis," she said. McGrath likened it to individual investors having a CD in their portfolio.
The deal must undergo an antitrust review by the Department of Justice, and if all goes according to plan, by midyear Cerberus should be the proud owner of the Yellow Pages, hoping its decline is slow enough to be profitable.
Before it's here, it's on the Bloomberg Terminal.
LEARN MORE