Tumi: An Armor-Plated Suitcase and IPO?
By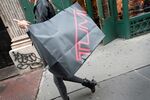 If you can afford a $700 pair of pants or a $1,400 suitcase, chances are you came out of the recession in pretty good shape, just like the makers of both items—fashion company Michael Kors and luggage-maker Tumi. Despite stubbornly high unemployment and stagnant wage growth, there's plenty of demand for high-end merchandise, as well as for shares in the companies that sell them.
Kors Holdings went public in grand fashion late last year, raising $950 million. Its share price has since more than doubled. The guys at Doughty Hanson, a London private-equity firm, are hoping to cash out in similar fashion by taking Tumi public later this year. Bloomberg News reports that they're seeking to raise about $319 million by selling 18 million shares for $15 to $17 per share. That would give Tumi a valuation of just over $1 billion. Doughty Hanson paid about $1 a share for its stake in Tumi eight years ago.
Though it's not as well known as Kors, Tumi caters to a similar demographic: rich people, who—in case you haven't heard—are doing quite well these days. While overall consumer spending has been sluggish during the nearly three-year-old recovery, the luxury retail sector is on fire, fueled by the U.S.'s ultra-rich, who continue to account for a bigger share of consumer spending. After all, the top 1 percent of earners took in 93 percent of all income gains in 2010. Turns out that betting on the super-rich has proven to be a pretty solid investing strategy, and a decent way for the average Joe to grab a piece of that 1 percent action.
Will Tumi be the next hot luxury stock? Chances seem good. "What I like about Tumi is that it's affordable luxury," says Howard Davidowitz, chairman of Davidowitz & Associates, a national retail consulting and investment banking firm. "They've reworked their fashion and they're very focused now."
Back when Doughty Hanson took Tumi private, the company had lost its specialized edge, says Davidowitz. With the world's airports crawling with business travelers lugging the same nondescript, black-wheeled suitcase, Tumi needed to distinguish itself from the Samsonites (1910:HK) of the suitcase world and remind consumers why they were spending extra.
In the last several years, Tumi has worked to put the luxury shine back on its products, rolling out such popular items as $500 leather backpacks and duffel bags, along with ultra-light hard-top suitcases made out of "polypropylene thermoplastic composite material." That's the same stuff used in bullet-proof armor, Nascar race cars, and protective gear for NFL players. On the off-chance that your suitcase gets into a gun fight—or is tackled by Ray Lewis—it should survive. As silly as that might sound, high-end shoppers have been snapping up Tumi gear, pushing its sales up by double-digits each year.
"There is no resemblance to where Tumi used to be. Their product development has been top-notch," says Davidowitz, who points to the company's strong position in urban retail as a harbinger of future success. "That's where you want to be, as opposed to in these suburban malls. So they're well-positioned. Can this company continue to grow? I think it can."
Before it's here, it's on the Bloomberg Terminal.
LEARN MORE