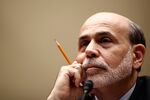 With every 200,000-plus jobs report that has come out over the past few months, the odds of the Federal Reserve embarking on a third round of monetary stimulus (known as quantitative easing, or QE3) seemed to get a little slimmer. In Bloomberg's most recent survey of economists, conducted in March, just after we learned the economy added 227,000 jobs in February, 61 percent of respondents said the Fed would not pull the trigger on QE3, up from 50 percent in January. Recent surveys of primary dealers by the New York Federal Reserve show a similar decline.
After Friday's weaker-than-expected jobs report, there's a renewed sense that QE3 may be necessary to keep a waning recovery on its feet. On Monday night, Fed Chairman Ben Bernanke will give a speech at the Federal Reserve Bank of Atlanta's Financial Markets Conference. Investors will no doubt parse his every word for evidence of whether he intends to embark on another round of bond buying. Chances are, they'll be disappointed if they're expecting a strong indication either way.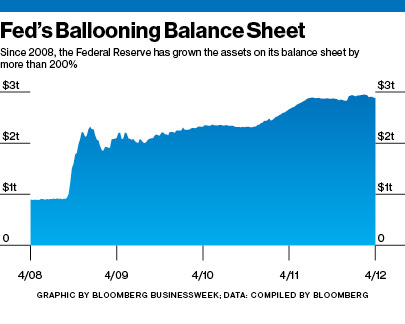 "I expect you'll see very little," says Justin Wolfers, a professor at the University of Pennsylvania's Wharton School. Wolfers sees the March number as only "mildly disappointing," and actually more in line with the pace of growth the Fed was expecting anyway. He says it's doubtful that one bit of data would have much sway over Bernanke's view of the recovery.
Market strategists tend to agree. "No single economic report is ever likely to motivate the Fed to act," says Tony Crescenzi, a market strategist for Pacific Investment Management (Pimco). Just as several straight months of strong jobs data didn't persuade Bernanke from ruling out the need for QE3, Crescenzi believes the relatively low March jobs number probably won't "clinch the likelihood" for it. "[Fed policy makers] tend to look at cumulative trends, as much as six months of data, all of which reinforces the idea that the U.S. economy faces many headwinds and achieving escape velocity will be quite difficult," he says. Crescenzi defines "escape velocity" as a growth rate of 2 percent or higher.
Still, the case for more monetary stimulus has been losing adherents among Federal Reserve policy makers recently, as evidenced by the minutes from the Fed's March meeting released last week. Among those not in favor of QE3 is Fed Bank of Atlanta President Dennis Lockhart, who told Bloomberg Radio last week that he would have to "see some pretty severe circumstances before I endorse for another round of quantitative easing." It's doubtful that one month of sluggish job gains would qualify as "severe" enough to change Lockhart's mind.
The Fed is now sitting on a balance sheet that has ballooned to $2.89 trillion after three and a half years of aggressive bond-buying activity. As a result, Bernanke has become a lighting rod of both praise and scorn. Last summer, Texas Governor Rick Perry called his actions "almost treasonous," while the cover of The Atlantic recently dubbed Bernanke "The Hero." Those who oppose further easing tend to say that after so much bond buying, we've reached a point of diminishing returns. The upside of further action would be limited, while increasing the rather herculean task of eventually unwinding that giant position without roiling the markets.
Equity investors will be especially interested in Bernanke's speech tonight. Stocks have come to rely on the Fed's aggressive monetary stimulus since the financial crisis. As the Fed has expanded its balance sheet, investors have poured back into riskier equity markets, viewing the Fed's bond buying as a crucial backstop for stock prices. A broad sell-off last week pushed the Dow down nearly 200 points, mostly off the news that Fed policy makers appeared to be souring on the idea of QE3. The irony, of course, is that the basis of that view is a strengthening recovery. There is also a growing concern among some Fed bankers that inflation is starting to pick up. Fed Bank of Richmond President Jeffrey Lacker said last week that he believes the Fed should raise interest rates in 2013, a year earlier than Bernanke has indicated.
Still, the case for QE3 remains fraught and, apparently, undecided. As such, the markets will again be attuned to Bernanke this evening. No matter what comes out of his mouth, though, one thing is clear, says Wolfers: "People will over-interpret whatever he says."
Before it's here, it's on the Bloomberg Terminal.
LEARN MORE