The Fight Over Retraining the Unemployed
By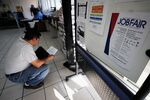 Federal funds to retrain Americans who've lost their jobs are drying up. Many job seekers who show up at career centers to request courses in such growing fields as computers or nursing are being turned away because money for that training has already been spent, the New York Times notes.
The U.S. spends nearly a billion dollars less on retraining the unemployed than it did in 2000, when the unemployment rate was 4 percent. Last year the government spent about $1.2 billion, compared with $2.1 billion in 2000.
Whether there will be a new influx of cash depends on congressional budget wrangling. In his latest budget, President Barack Obama proposed an additional $2.8 billion for job training. The National League of Cities says the recent budget proposed by House Budget Committee Chairman Paul Ryan (R-Wis.) would severely reduce that funding. Ryan says he's only streamlining and improving programs that "overlap, lack clarity and accountability, and fail to meet the challenges workers face."
Although the separate budget proposals reflect ideological differences, it's also very difficult to figure out how much it's worth spending on programs with a value that's hard to prove. Even the most effective retraining programs face a huge problem: You can't retrain people for jobs that don't exist. And right now, the number of people seeking employment is greater than the number of available jobs. That isn't likely to change soon, either: As the Wall Street Journal reported today, most of the new hires by S&P 500 companies since the recession have been outside the U.S.
That doesn't mean programs like these are useless. They still have a better job-placement rate than unemployed workers achieve on their own. And even if the overall labor pool is greater than the number of jobs available, job seekers in a particular area may not have the skills that employers demand. Employers say a mismatch of skills is currently preventing them from filling 3.5 million jobs.
States and cities are coming up with workarounds. After Alabama passed its harsh immigration law, state career centers stepped in to retrain people in farm labor. There simply weren't enough people with the skills these terribly low-paying jobs require. In Washington, D.C., a mobile career center has partnered with major employers, including Safeway supermarkets. The company told me they have more than enough applicants, but the career training center helps them get a better pool of talent than they'd have gotten just from walk-ins. To Safeway, the retrained applicants are better candidates. In essence, the government is paying for training that Safeway would otherwise have to provide.
Many of the most "successful" retraining programs work in just this fashion, as a January report from the Government Accountability Office points out. A local employer works closely with the career center to tailor the retraining exactly to their needs. In return, the employer all but promises to hire the workers. That helps officials make their numbers look good, too. The only question is where the money will come from to pay for it.
Before it's here, it's on the Bloomberg Terminal.
LEARN MORE