Student Loan Debt, With Little to Show for It
More dropouts are struggling to repay money borrowed for school
Alison Damast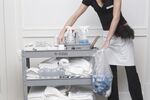 Kevin Wanek was one semester away from graduation at Western State College in Gunnison, Colo., when he found himself in a bind. He no longer wanted to be an accountant, the field he was studying, but he owed more than $50,000 in student loans. Reluctant to take on more debt, he decided to drop out. "I started adding up what I owed," he says, "and it really hit me."
Though he had limited career options as a college dropout, he found an entry-level job at iTriage, a mobile-health-care-app maker in Denver, and over the past two years he's become a computer programmer. Now he wants to finish his degree, this time with a focus on computer science. Yet with nearly all his disposable income going toward $600 monthly student loan payments, the 24-year-old worries he'll never save enough to re-enroll. "It almost feels like the money is going into a black hole," Wanek says. "It's frustrating knowing that you're paying for something you don't have a tangible return on."
With tuition up more than sixfold in the past three decades—to $32,000-plus for four years at a state university and $83,000 in a private school—the percentage of people with student loans who quit without a degree is on the rise. Almost 30 percent of borrowers who started college in 2003 dropped out within six years, up from 23 percent of those who started in 1995, according to Education Sector, an independent think tank. Borrowers who drop out are four times more likely to default on their loans as those who graduate, the group says. "As long as college prices keep increasing, the tension students face between trying to minimize debt and maximizing their chances of graduating will continue to grow," says Mary Nguyen, who authored a report on the topic for Education Sector. In 2009, the median income for borrowers who dropped out of college in the previous six years was $25,000, or $5,000 less than those who graduated in those years, Nguyen says.
Roughly 36 million Americans have attended college without earning a degree, says Anthony Carnevale, director of the Georgetown University Center on Education and the Workforce. The median lifetime earnings of someone who gets a bachelor's degree today will be about $2.3 million, while those with some college but no degree will earn $1.5 million, the center reports. Those with only a high school diploma will make $1.3 million—but likely won't have student debt. "The worst case is if you go into a low-earning field, don't graduate, and accumulate debt," Carnevale says. "In the end, what you get is the debt and no real increase in earning power."
About 27 percent of those who started at a four-year institution in 2003-04 but didn't complete a bachelor's degree by 2009 have more than $17,000 in student loan debt, and 13 percent have more than $28,000, according to the College Board's 2011 Trends in Student Aid report. Jim VanNest owes $100,000. He dropped out of Boston's Berklee College of Music, where he studied voice and audio engineering for three years, in 2005. Since then he has worked as a receptionist, a janitor, and "hit a low point" when he got a job with pet supply retailer Petco. VanNest, 30, is planning to return to San Francisco State University to study economics. "That feeling of not being technically eligible for so many positions bothered me so much," he says, "that I decided I was going to finish school."
Before it's here, it's on the Bloomberg Terminal.
LEARN MORE