Q&A: Mike Tyson on His One-Man Show in Las Vegas
The former heavyweight champion discusses anger management, his quest for redemption, and having "no money."
By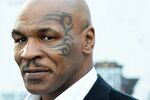 Retired heavyweight boxer Mike Tyson has been in the spotlight since he was a teenager. Nintendo based a now classic video game around him when he was just 21 years old. So much about his life—growing up in Brownsville, Brooklyn; being trained and nurtured under Cus D'Amato; his wins and losses; the ear-biting incident; his wild lifestyle; his drug and alcohol use; his wealth and subsequent bankruptcy; his rape conviction; his conversion to Islam while in prison; his retreat to a quieter, suburban life—have been documented in gritty detail. But, Tyson says, people don't know the full story.