Free's Low Rates Rattle French Telecom Industry
by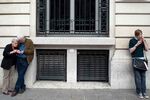 Xavier Niel, the entrepreneur who shook up France's telecom establishment by introducing super-cheap Internet access, is on the move again. With rates as low as €2 (about $2.60) a month, the Free Mobile phone service launched in January by his Iliad group has lured an estimated 2 million subscribers away from competitors. "There isn't another operator in the world that has won as many subscribers as us in such a short time," Niel said at a recent press conference.
Free's foray into mobile has already shaken the country's top three operators—France Télécom's Orange, Vivendi's SFR, and Bouygues Télécom—which until now controlled 90 percent of the market and charged the highest rates in Europe. France's national telecommunications regulator recently warned that competition from Free could force the incumbents to shed as many as 10,000 jobs.
All three have slashed rates, though none has matched Free's offer of unlimited calling, texting, and data services for €20 a month. (Free's €2 offer covers just 60 minutes of calls per month.)
SFR, the market's No. 2 behind Orange, says it is reviewing its strategy after forecasting a €570 million earnings slump. SFR also has reshuffled management, with Vivendi Chief Executive Officer Jean-Bernard Lévy taking direct control after former SFR Chief Frank Esser left the company. Bouygues says it's planning €300 million in cost cuts by 2013.
One of the most contentious aspects of Free's business model is an agreement the company signed last year with Orange, allowing Free's mobile traffic to move via France Télécom's network while the newcomer builds its own network. France Télécom has said the arrangement is beneficial because Free pays for using its network. But critics, including Esser, have said the agreement gives Free an unfair advantage. "Making offers for €2 does not provide support for a quality network," Esser told the newspaper Le Monde in an interview earlier this year.
As of January, Free's own network covered just 27 percent of France's population. At times, its swelling subscriber base has appeared to swamp the system. "For the past two weeks, starting around 5 p.m., it's virtually impossible to get a call through," says Juliette Nass, a subscriber in Paris. Juan Lin, an industrial designer, also in Paris, says she has missed several appointments because people sent her text messages that arrived a day late.
Calls to Iliad's press department about the service problems were not immediately answered, although in a statement issued last month, the company said that tests carried out by the telecommunications regulator, known as Arcep, showed that 95 percent of calls on its network were successfully completed.
France Télécom CEO Stéphane Richard told Bloomberg News on April 6 that some service problems had occurred "because the link between the Free and the Orange networks is too small. Orange is working on fixing those problems, and the problems should fade away in the coming weeks."
Richard declined to say whether the bottleneck had caused any problems for Orange's own subscribers—a key question, because France Télécom has the right to cancel the agreement with Free if its own service quality suffers.
Niel's aggressive pricing comes as no surprise to French mobile operators. In 2001 the iconoclastic businessman—who got his start running an online sex-chat service—launched the country's first triple-play Internet, television, and telephone service. He quickly grabbed one-fourth of the market by setting prices far below those charged by industry leaders, including France Télécom. Today, all the country's major Internet providers offer prices that roughly match Free's, and French broadband rates are among the lowest in the world.
By contrast, France's 68.2 million mobile subscribers until now have paid the highest rates in Europe—an average €393 annually, according to research firm Gartner. Until Free's arrival, Orange had 45 percent market share, followed by SFR with 35 percent, and Bouygues with 19 percent, Gartner estimates.
Orange and SFR have each reported losing about 200,000 subscribers to Free.
There are signs that Free's surge may be tapering off. Bouygues Télécom CEO Olivier Roussat says that in recent weeks his company has won customers back, with former Free subscribers accounting for more than half of the customers who have signed up for a new, lower-cost service offered by Bouygues.
Free's customers, even those who grumble about dropped calls and undelivered text messages, seem inclined to give the company time to gain its footing: "I used to be with Orange, and my [monthly] bill was €100. Now it's €20," Paris subscriber Nass says. "So I'm willing to accept a few bugs for a month or two."
Before it's here, it's on the Bloomberg Terminal.
LEARN MORE