Thorsten Heins: Into RIM's Ring of Fire
First-time CEO Thorsten Heins has a plan to save Research In Motion and restore the BlackBerry to the center of work life. And no, he's not delusional
by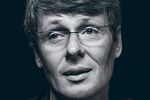 On a recent Friday afternoon, Thorsten Heins, the 54-year-old chief executive officer of Research In Motion, entered a drab conference room at the company's headquarters in Waterloo, Ont., and endeavored to explain why he was the right man for an impossible job. The newly anointed leader of Canada's largest technology company is tall, walks with a stiff gait, and speaks with a German accent. In black shoes, black slacks, a black sports coat, and a black button shirt with the word BlackBerry emblazoned in white above the breast pocket, he looked like a corporate IT officer dressed up as Johnny Cash. Given the funereal gloom that hangs over Heins's company, the somber tones seemed appropriate. Sitting in on the interview was PR executive Michael Sitrick, a crisis-management expert who often snaps up clients who are undergoing a bout of sub-optimal media exposure. Prior to RIM, Sitrick has represented the likes of Kobe Bryant, Ron Burkle, and Paris Hilton.
RIM's troubles are hard to overstate. Its once-ubiquitous BlackBerry devices have been bleeding market share in the U.S. to Apple's iPhone and to devices running Google's Android software. Plunging U.S. sales have left RIM's share of the global smartphone market at 8.2 percent in the fourth quarter, down from 14 percent a year earlier, according to research firm IDC. (A few weeks later, Heins announced that the company lost $125 million on $4.19 billion in revenue in the fourth quarter of fiscal 2012, which ended on March 3.) Along the way, investors have largely lost faith in the former darling of the wireless communication world. RIM's stock is down 79 percent in the past year and 91 percent from its 2008 high. In January, Mike Lazaridis, who founded the company in 1984 after dropping out of the University of Waterloo, and his longtime co-CEO Jim Balsillie stepped down. Rather than bring in a high-profile star from Silicon Valley, RIM's board members promoted Heins, a soft-spoken chief operating officer who had joined RIM four years earlier.

At a time when tech executives rival pop stars in the amount of media attention lavished on their every shimmy, Heins is almost invisible. He's never given a TED talk or appeared on Charlie Rose or paced on stage in front of a giddy crowd of fanboys and reporters. He is not on Twitter. "Just how unknown is Thorsten Heins, the new CEO of #BlackBerry?" Dennis Berman, the Wall Street Journal's Marketplace editor tweeted on Jan. 22. "So unknown that his name doesn't even autofill on a Google search."
To introduce Heins, RIM rolled out a YouTube video. In it, Heins spoke about his passions ("I spend a lot of time at RIM …"), his love of hiking ("I miss my Bavarian mountains …"), and his leadership style ("I'm very performance-driven …"). The video did little to change Heins's public profile. He remained, as the Globe and Mail put it, the "unknown German-born physicist."
Heins is a father of two, and after some preliminary chitchat about parenting, he argues that contrary to widespread perception, RIM remains on strong footing. The company is debt-free and sits atop $2 billion in cash. It currently has 77 million subscribers. Sales outside the U.S.—particularly in Indonesia, South Africa, and Venezuela—remain strong. Later this year, RIM will put an entirely new operating system into wide release in conjunction with the launch of a line of BlackBerry 10 smartphones. Heins says it will redefine mobile multitasking, enamor RIM to the app-developer community, and arm the company with a "future-proof" platform.

As the all-important rollout of the BlackBerry 10 approaches, Heins says RIM will be reaching out to enterprise customers and working with them to upgrade their employees' BlackBerrys with the newer, more nimble models. Heins believes that RIM's troubles in the U.S. stem from its failure to anticipate what he calls the BYOD, or Bring Your Own Device, movement—in which the company's core white-collar customers began replacing their corporate-distributed BlackBerries with Apple and Android-powered smartphones from home.
Heins says he has a plan to alleviate RIM's existential crisis, and the discipline to make the company hyper-efficient. "The first thing you need to do with your employees is you've got to be open," says Heins. "Tell them where we are. They're thinking it themselves anyways. You cannot sit there and say, 'Hooray, hooray, I'm rocking in the U.S.' if you aren't. So you have that realism there. But also, you have to get them excited about the future of BlackBerry." Then Heins leans forward in his chair, peers over the top of his glasses. "I don't like to be dictatorial, but if I have to, I can be," he adds. "Right now at RIM, I'm a bit dictatorial."
Listening to Heins talk about RIM can bring on a sense of déjà vu. It wasn't long ago that another once-dominant phone maker failed to anticipate market changes brought on by the advent of the iPhone and Android devices, watched its share of the smartphone market plummet, and brought in a new CEO, who preached better management accountability, touted strong emerging-market sales, and pinned the turnaround of the company on a new operating system. That company was Nokia. And that formula ultimately failed. In February 2011, Nokia CEO Stephen Elop announced he was giving up on the new operating system, Symbian, as a savior, and instead would partner with Microsoft. More than a year later, investors are still waiting for serious signs of a turnaround.
Heins, too, must be experiencing déjà vu. In 2004, Siemens, the multinational engineering and electronics giant, named him the head of its mobile-phone division at a time when the unit was struggling. Heins's solution was to invest in a new operating system, but in 2005, rather than implementing Heins's plan, Siemens sold off the cell-phone business. Heins indicated that he's open to other scenarios—including the possibility of licensing RIM's operating system, à la Android—but he insists there's plenty of time left on the clock for RIM to succeed on its own terms. "We are challenged in the next quarters," Heins says, "but we know we have a great future ahead of us if we do it right and if we play it right."
Corporate sloganeering does not come naturally to Heins, but he has experience dealing with uncertainty. Heins's father, Gerhard, left home at 16 to fight in World War II and became a prisoner of war. After regaining his freedom, he started a family and moved with his wife and young children to Benitz, a small village in West Germany, to take a job as a border guard. Thorsten was born in 1957, one of four siblings.

Heins says his father would patrol the desolate border along communist-controlled East Germany with a gun on his hip and a German Shepherd at his side. The area was littered with land mines. He recalls that every so often an explosion would rip through the night and his father would have to scramble out into the darkness to see who had set off the mines. "It was very stressful," Heins says.
After several years in Benitz, Gerhard transferred to a desk job in Hannover, and the Heins family moved to the capital of lower Saxony. Heins says his parents wanted their children to receive good educations, but money was scarce. His mother took on janitorial work to help pay for their schooling.
After high school, Heins spent 15 months serving in the army and then enrolled in the University of Hannover. At one point, to pay for tuition, Heins got a job doing menial labor for a woodworking company. While there, a master woodworker taught him the fundamentals of the craft. Heins says that to this day, he finds woodworking the ultimate stress-relieving activity. He owns a house in Munich that is decorated with furniture he designed and built himself. For fun, Heins also likes to ride a BMW motorcycle, a hobby his PR team is eager to highlight—motorcycle-riding being a firmly established CEO-like thing to do.
Siemens hired Heins his first year out of graduate school. After a short spell in a Munich laboratory, Heins moved into management. His fluency in science served him well at Siemens. He thrived in an environment where everything was measured; complacency was verboten. When he had mastered one managerial quagmire, he was dropped into the next. Along the way, he picked up experience in R&D, sales and product management, finance, and customer service.
In April 2004, when the previous manager died suddenly, Siemens named Heins the head of its mobile-phone division. Later that year, Heins oversaw the rollout of the first Siemens phone with BlackBerry software, including "push" e-mail, built in. During the process he got to know the top RIM executives in Waterloo.
Lazaridis, the founder of RIM, says Heins made a strong impression. "He had classic training in physics," says Lazaridis. "He had had numerous engineering roles. He had gone through Siemens management training. So he had a tremendous amount of experience in the category that we worked in."
In 2005, Klaus Kleinfeld was named the new CEO of Siemens. As part of a broader restructuring, Kleinfeld sold off the mobile-phone group. By then, Heins had been promoted to a position on the board of Siemens Communications.
Lothar Pauly, the former CEO of Siemens Communications, who managed Heins in a variety of roles over the years, says Heins has a "good technical vision" that, on at least one occasion, led to a major, lucrative new line of business for Siemens. Pauly says that in terms of turning around troubled divisions, Heins was less successful. While Heins managed to reinvigorate Siemens's struggling optics division, he was unable to resuscitate the company's cell-phone unit.
Heins's mixed record at Siemens was the object of barbs in the German press after he was named CEO of RIM in January, but Pauly says the criticism is unfair. The failure, according to Pauly, was due to an insurmountable software problem that long predated Heins's arrival. Pauly says it didn't take long for Heins to assess what he'd inherited and identify the necessary, if painful, solution—building a new operating system. Siemens executives decided that such an investment would be cost-prohibitive and unloaded the business.
In 2007, Heins joined RIM as a senior vice president for hardware engineering and product management. Ostensibly, it was a step down. But Heins says he was happy to get back in touch with the rapidly shifting technology that was roiling the mobile-phone industry. "Maybe that goes back to my woodworking experience," says Heins. "As a board member, you're very far away from what is going on in the labs." By joining RIM the same year the iPhone debuted, Heins was putting himself smack in the path of even greater disruptions.
RIM expanded so fast, for so many years—its revenue went from $300 million in fiscal 2003 to $3 billion in fiscal 2007—that projects proliferated out of control. Heins says one of the problems he has diagnosed since taking over as CEO is organizational inefficiency. He's found engineers tasked with working on multiple, sprawling initiatives at the same time, with everybody having a hand in everything. Accountability is a mess.
"I love this Canadian word—huddle," says Heins. "You know, you 'huddle around things.' Sometimes we huddle for too long. You've got to have a point where somebody says, 'I get all the arguments. It's decision time. I'm accountable for this whole thing.' "
During the summer of 2011, RIM laid off 2,000 employees (page 94). On the eve of the cuts, the technology blog Boy Genius Report posted an anonymous letter from an individual claiming to be a high-ranking RIM employee (whose identity the blog's editors said they were able to verify). The letter encouraged RIM leaders to recruit more talented software managers, to consolidate projects, and to ramp up marketing. The letter's author attributed the company's lack of management accountability to the sweeping observation that "Canadians are too nice."
I ask Heins what he thinks of the general assessment. Can his Waterloo managers make the tough decisions needed to keep pace with the alligators and hammerheads in Cupertino and Mountain View? "Canadians are very cautious," says Heins. "It's a good human attitude, not hurting anyone, being really careful. That was something I had to learn here."
Germans, says Heins, tend to be more blunt. "We easily come to a yes or no," he says. "Sometimes too fast, actually. But a good amount of constructive, confrontational debates aren't bad, as long as it doesn't get personal." Heins says that in order to steer the company back on track he is willing to play the role of the hard-charging executive.
"He can be very direct," says David Smith, a senior vice president at RIM. In September 2011, Heins put Smith in charge of the software upgrade for the PlayBook, RIM's tablet computer, which had debuted five months earlier with a thud. Tech reviewers criticized the device for, among other shortcomings, lacking a dedicated e-mail program. Shortly after taking over management of PlayBook 2.0, Smith realized that the project was foundering. There was no way they would be able to deliver a high-performing product on the schedule they had publicly committed to. Smith took the bad news to Heins.
Heins encouraged Smith to be candid about the reasons behind the delay and to go directly to RIM's board with a revised plan. Denial was no longer a managerial option. "It was a bit scary," says Smith. "But at the end of the day we executed on the plan. We delivered on what we said we would do. That's the essence of what Thorsten wants to make happen." Rim rolled out PlayBook 2.0 in February. This time, reviews were largely positive though sales continued to be lackluster.
The uphill struggles are not limited to the tablet business. Brian Blair, an analyst with Wedge Partners, recently told Bloomberg Radio that RIM's struggles are the result of losing their once significant technological advantage in things like push e-mail and mobile security. "What's happened over the past few years is that Apple and Android have caught up with them," says Blair. "The best example of that is Apple being found across every Fortune 500 company, being found in government—places where security is very important. They definitely had something special maybe three or four or five years ago. It really feels like everybody has caught up." In the fourth quarter of fiscal 2012, sales of BlackBerry smartphones were down 21 percent compared with the previous three months. After missing sales estimates for the fifth straight quarter, RIM announced the company would be suspending its financial forecasts. During fiscal 2012, RIM generated revenue of $18.4 billion, down 7 percent from the previous year.
Upon taking over as CEO, Heins told analysts in a January conference call not to expect any "seismic changes." The comments touched off howls of disapproval, and another drop in RIM's share price. On March 29, Heins took a different tact. In a conference call with analysts, Heins, without quite saying it, made it clear he was cleaning house. David Yach, RIM's longtime CTO of software, is retiring. Jim Rowan, RIM's chief operating officer for global operations, is stepping down. And former co-CEO Jim Balsillie is relinquishing his seat on the board.
Heins says that moving forward, RIM will focus on defending its core strength, corporate enterprise customers, while rallying the company behind the release of its BlackBerry 10 phones later this year. "I have to say I am pleased with the progress they are making," says Heins. "I've seen the first working software on the actual device, and I was intrigued by the stability, by the performance, and by the beauty of the user interface that I was shown."
RIM's best hope for navigating safely out of the valley of the shadow of death is to restore its centrality in the life of diehard business users. In the ideal scenario for RIM, the BlackBerry 10 phones will succeed where models such as the Bold, Curve, and Torch have largely failed—namely, in convincing business professionals that they don't have to abandon their BlackBerrys in search of things like faster Web browsing and better apps, but that they ought to trade in their trusty BlackBerry for a new one. Millions of BlackBerry users still use their BlackBerry 5's and 6's—holding on to them like a well-worn hat. Those who remain loyal to their BlackBerry tend to be passionately devoted to, among other things, the physical keyboard, the thumb-centric design, the push e-mail, BlackBerry Messenger, and their high scores on BrickBreaker. Ironically, it's the durability of RIM products that often undermines the desire for upgrades.
Having invested heavily in developing a new operating system, RIM could find itself well positioned to capitalize on lucrative licensing opportunities, potentially providing handset makers with a legitimate third mobile software option beyond Google and Microsoft. All of that, plus a new chief marketing officer and a renewed focus on products and services targeted at enterprise customers—and maybe, just maybe, Heins could keep BlackBerry relevant.
Weighing heavily against such a rosy scenario are the deep pockets of the competitors RIM is battling. In a lot of industries having $2 billion in cash on hand would be a position of strength. Unfortunately for RIM, Apple currently has a $40.9 billion war chest, Microsoft has $26.7 billion, and Google has $11.1 billion. At the same time, RIM's current success in emerging markets is likely to come under increasing pressure from low-cost, discount handset vendors. Serious threats abound on the high and low ends of the market.
There are other viable scenarios, too. Recently, Heins said that selling RIM is an option he "would consider" but not the "main direction" he's pursuing. Ultimately, Heins says he bears responsibility for turning the company around. "That is what I am charged with by the board," says Heins. "That's my challenge."
"The new CEO now has set a very different tone for the company," Alex Gauna, an analyst with JMP Securities, told Bloomberg TV after the recent conference call. "It looks like their eyes are wide open—that drastic changes do need to be made for the company. So in a way it's encouraging."
At the RIM headquarters, Heins points out that despite all the doom and gloom surrounding public discussion of RIM these days, the market for wireless technology and mobile computing continues to expand. Management theory, he says, suggests that the market can support three or four successful companies. "Would you ever expect four or five German car companies to all be successful?" says Heins. "Porsche, Mercedes, BMW, Volkswagen, Audi. You would say, 'What? Five car companies in one country and they all make good money and they all survive? How can that work?' It works because they all have their unique position." Not that he's living in a dream world: "Now if you go exactly where your competitors are, you're dead," says Heins. "If we try to be Apple, we will fail."
Making RIM "Future-Proof"
1. Induce rival to declare "I'd shut RIM down and give the money back to shareholders." Rally the faithful.
2. Hire inspired chief marketing officer.
3. Complete BlackBerry OS 10 on time. No bugs. Integrate Twitter. Better Gmail.
4. New CMO to get PlayBook tablets in front of IT managers weighing iPad bulk orders. Secure data plans from Verizon, AT&T, et al that win over chief information officers. Better Gmail.
5. License BlackBerry OS 10 to other smartphone makers, open the platform to developers, cultivate "mission critical" business apps. And better Gmail.
6. Add Michael Dell to speed dial, memorize "You need a mobile strategy" pitch.
7. Pray.
Before it's here, it's on the Bloomberg Terminal.
LEARN MORE