pursuits
The Titanic's Tragic Employees of the Month
By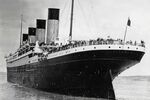 The subtitle for Sunday night's James Cameron-fronted National Geographic documentary on the RMS Titanic is The Final Word, and one must forgive those who hope it's so. For weeks, there's been a steady stream of hype leading up to the April 15 centennial of the cruise ship's sinking in the North Atlantic, and more than a few magazine covers have promised fresh insights that were neither. And yet, the very next evening, on Monday, April 9, the man who located the shipwreck back in 1985, Bob Ballard, will host a second National Geographic program, Save the Titanic, in which he investigates an over-looked subplot of the disaster: the Guarantee Group.
"It was sort of like the Employee of the Month, or the Employee of the Ship award," Ballard says. "The shipyard had all these different divisions. You know, the people that built the boilers, the electricians, you name it. It was a very mammoth effort. And it was divided into all these different divisions and [the Guarantee Group] was drawn from each of them."
Toward the completion of each new vessel, Harland & Wolff, the Belfast boat-builders that made the Titanic, had the heads of various technical divisions select their best apprentice, then rewarded these apprentices with passage on their new ship's maiden voyage. Given that thousands worked on these monstrous ships, it was a big deal—and frequently, a step up in lifestyle, as if a contractor specializing in window installation were to win a month's stay in a new Richard Meier penthouse apartment. "It was a Harland & Wolff tradition," Ballard adds. "And it was not only an honor, but a bit of a punch list. You what I mean? I can imagine these ships sailing and they're going: You know, we're not quite done with this part of it yet. … You want the people who know the ship best on-board for any trouble-shooting."
In the case of the Titanic, chief designer Thomas Andrews told his four top deputies to pick an apprentice who would join them on-board when the ship set sail on April 10, 1912 from Southampton, England. So the Titanic Guarantee Group was comprised of Thomas, his four directors, and four "boys"—the presumed future of Harland & Wolff. All nine went down the ship they spent three years making.
At a luncheon at the Explorer's Club in New York, and later by phone, Bloomberg Businessweek spoke to Ballard about why the Guarantee Group was only now coming to light and his efforts to preserve the Titanic as a grave site, as well as his take on James Cameron's record-breaking dive and the recently announced expedition to find Amelia Earhart's airplane.
Bloomberg Businessweek: So how did you learn of the Guarantee Group?
Bob Ballard: I was embarrassed. I thought I'd learned about everything I could ever learn [about the Titanic.] But three years ago, Duke Abercrombie, a member of the royal family of Northern Ireland, came to my office in Connecticut and said: "It's time for us to embrace the Titanic." He told me about this monumental project in Belfast [that] will be opening on the anniversary. If you go online and type "Titanic Quarter," or "Belfast Titanic," you'll see they've done this massive rebuilding of the inner city of Belfast. And at the very center of it is the Harland & Wolff shipyard, the very place where the Titanic was built.
For a hundred years, Belfast has been in denial about the Titanic—fundamentally, out of shame. When I was first thinking about going after the Titanic, I contacted Harland & Wolff and they wouldn't even respond. This time, we decided to make Belfast part of the story, and so we went over there, and that's when I walked into this old building and there was this Guarantee Group. [I asked,] "Who are they?" I knew Thomas Andrews because he was the chief builder. At the moment the Titanic struck the iceberg, [Andrews] was who Captain Smith called and said, "Go below decks and see" because he knew he was the single most-knowledgeable person about the Titanic. And he went back to the captain and said: "You know, she's going to sink." And Andrews was last seen giving his life jacket away and was said to be in the First Class smoking lounge—just sitting there, admiring the room, admiring his work, and didn't budge. … So, I knew about him. But I didn't know he was the head of the Guarantee Group.
How did one earn the honor of belonging to the Guarantee Group?
It was a tradition. Believe it or not, Harland & Wolff built 50 luxury liners for the White Star Line over the years. Fifty. And as a part of that process, when a ship was going to go on its maiden voyage, they would select from the 10,000 workers the very best of them to sail with the ship.
The families of the Titanic Guarantee Group had never talked because you were not allowed to talk. And so now, three generations in, we actually sat down and on camera talked to the families of the Guarantee Group as they told their stories for the first time. And I was impressed with them. Their philosophy was the same as mine: that this was a very special ship and you shouldn't loot it. It's a grave site.
Has the stigma lifted for the descendants or is it still there?
There's a number of sayings: "She was fine when she left Belfast." The other one is: "The Irish built it and the British sank it." [laughs] But I mean, those are sort of gallows humor. At least they're finally talking about it.
What did you think of James Cameron's deepest dive?
Oh, it's great. Jim is an amazing guy. God bless him. I'd love to know some of the newer technologies he's using because he's very secretive. There were some innovations there. When I went to 20,000 feet [beneath the sea]— that took me six hours to get up; and he came up from 35,000 in an hour. [laughs] So, I'd like to know how he did that. I spent a lot more time in the elevator and didn't go as deep. "So, Jim, how'd you do that?" He isn't a scientist, but that's fine—look at how he's exciting people. And Jim's new film, Avatar 2, is going to be an underwater one. I love when people bring attention to the oceans.
What do you make of the search for Amelia Earhart's plane?
That really was based upon the resurrection of this image. And you can go on the Web and find the picture; you can find exactly the picture: Eric Bevington, 1937, a picture of Gardner Island, and the SS Norwich. And then if you look over the lower right-hand corner, it's fuzzy; there's this object sticking out of the water. [The picture was shown to] State Department analysts without telling them anything about it. Didn't talk about Amelia Earhart, didn't talk about Gardner Island. Just said: "What is that object?" And they came back and said: "Well, that's a Lockheed Electra landing gear." Well, that was Amelia Earhart's plane—a Lockheed Elektra. Who else would have a Lockheed Electra upside down there, so bam. All of a sudden, the search area collapses. But since these were land-based people and now the government was involved, Secretary [Hillary] Clinton and [Assistant Secretary of State for East Asian and Pacific Affairs Kurt] Campbell wanted me to sort of put these guys through their general exam.
So you've been directly involved in this?
My job was to really dissect their plans and make suggestions, prior to the press conference. But my gosh, this is the best lead on Amelia Earhart in a long, long time. And so, they've organized an expedition that will sail from Hawaii. They got all the right technologies and mapping. And if it's there, it's going to be found.
In addition to the Belfast festival, you have your own exhibit opening in Mystic, Conn., right?
I was just in it yesterday. It was beautiful. We focus on the moment of discovery. And it's really nicely done. It took me a month to go through my archives, but fortunately they were in order, and I picked out 75 of the critical documents that led up to the discovery. And we have those all downloaded. And we have—you know, when we went out and filmed [the Titanic] in 2004, we took 210 hours of HD, which equals to millions of still pictures. For people that can't get enough, this'll give them enough.
Before it's here, it's on the Bloomberg Terminal.
LEARN MORE