business
The Overshoot Is Over: Companies That Laid Off Too Many Are Hiring Back
Hiring bounce-back has benefited workers
By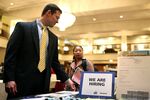 Job growth has been healthy lately even though economic growth has been so-so. Economists speculate that employers laid off too many people and are being forced to hire some of them back. Federal Reserve Chairman Ben Bernanke, in a speech to business economists last month, said: "What we may be seeing now is the flip side of the fear-driven layoffs that occurred during the worst part of the recession."
That goes along with what people in the job market are saying. "The kneejerk reaction of corporations is to look at staff as a large expense. It's not something I've agreed with," says Rich Milgram, chief executive of Beyond.com, a job-site company in King of Prussia, Pa.
How much longer can the bounce-back boost hiring? We'll get part of the answer on Friday. Economists surveyed by Bloomberg News expect the Bureau of Labor Statistics to announce that in March, the U.S. economy created more than 200,000 jobs for the fourth straight month. The median estimate is 205,000 jobs created, down from 227,000 jobs in February.
From now on, employment probably won't continue to grow so rapidly unless economic growth strengthens. "The easiest part of a decline in the unemployment rate has already occurred," Peter D'Antonio, a Citigroup economist, wrote in an analysis of the labor market released to clients yesterday. Bernanke made the same point in his speech to the National Association for Business Economics, saying, "further significant improvements in unemployment will likely require faster economic growth than we experienced during the past year."
One positive sign for jobs today: Initial claims for unemployment insurance fell in the week ended March 31 to their lowest level since April 2008.
Before it's here, it's on the Bloomberg Terminal.
LEARN MORE