The Chinese Try to Harness the Nevada Sun
A struggling town strikes a bargain with a solar power supplier
By and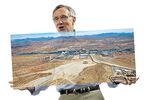 Laughlin, Nev., is a dusty outpost 113 miles southeast of Las Vegas, a town of 7,300 people, 11 casinos, and not much else. With many citizens in dire economic straits and facing foreclosure, Laughlin's civic leaders had long hoped to attract new businesses. Nothing worked until China's ENN Group came to town on the arm of U.S. Senator Harry Reid with a plan to build a $5 billion solar energy complex on a barren plot of land on Laughlin's outskirts.
ENN, based in the northern city of Langfang, is buying 14 square miles of land from Clark County for $4.5 million, less than one-eighth of the $38.6 million assessors told the county the property was worth last year. The company plans to manufacture solar panels on the site and then operate a solar farm generating 700 megawatts of electricity, enough to power 175,000 homes. It says the construction of the complex would put 2,505 people to work. County officials say a statute allows governments to sell property for development at a below-market rate if the project creates jobs.
"On a scale of 1 to 10—10 being the most important—this is an 11," says Clark County Commissioner Steve Sisolak. "It's desert and sand and tumbleweeds and dirt out there for miles. This could be an enormous economic boon." Reid introduced Sisolak to ENN executives after touring the company's headquarters with a group of senators last year.
The deal comes at a time of escalating tension between the U.S. and China over the solar panel industry, with Washington accusing China of dumping cheap components manufactured with the help of government subsidies in the U.S. According to the Department of Commerce, the number of panels imported to the U.S. from China jumped 247 percent from 2009 to 2011. That's caused prices to plunge and at least a dozen U.S. solar companies to declare bankruptcy, fire workers, or close plants in the past two years, according to the Coalition for American Solar Manufacturing. Last month, under pressure to curb the unfair trade practices, the Obama administration imposed preliminary tariffs ranging from 2.9 percent to 4.73 percent on some Chinese solar equipment.
ENN's core business is natural gas. It's a small player in the global solar market, having manufactured panels only since 2008. The company hasn't said whether it'll sell its Nevada-made equipment on the U.S. market after making enough panels to outfit the solar farm. That operation would be the largest solar power generation plant in the U.S., and ENN's investment would be larger than all other Chinese investments in the U.S. combined last year, according to Rhodium Group, a market research firm. "Laughlin will never be the same," says Connie Davis, director of the Laughlin Chamber of Commerce. "It will grow beyond our wildest expectations, and we will have to bring in more housing and retail."
Yet the solar project is not a sure thing. The land deal requires ENN to line up a utility customer before breaking ground, and it will be voided if one isn't found by June 2013.
The energy plant "will generate the electricity California must have in just a few years," Reid said in March, referring to a state mandate requiring 33 percent of a utility's electricity to come from renewable sources by 2020. "This project is close to California. It's within walking distance." Timothy Alan Simon, who sits on the California Public Utilities Commission, says ENN may struggle to find a customer in his state: The commission, which signs off on such purchases, approved 6 percent of the clean-energy proposals that came before it last year.
Reid is working on introducing ENN to utilities, says Kristen Orthman, his spokeswoman. Laughlin officials say they get calls every week from investors, job seekers, and local business owners wanting to know the status. "It's extremely frustrating," Sisolak says. "Everybody is so anxious and wants this project to move forward."
BOTTOM LINE -
The bottom line: Nevada officials are selling land to a Chinese energy company for less than an eighth of the property's assessed value, citing job creation.
Before it's here, it's on the Bloomberg Terminal.
LEARN MORE