Need A Job? Go to Oklahoma City
by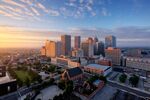 The energy industry has been a major boon to the job market in Oklahoma City. Among the 50 largest U.S. metro areas, Oklahoma City had the highest score on Gallup's Job Creation Index in 2011, followed by Pittsburgh.
"Our unemployment rate has increased [compared to before the recession], but we've consistently had one of the lowest unemployment rates among metro areas," says Eric Long, research economist at the Greater Oklahoma City Chamber. The jobless rate in the metro area was 5.9 percent in January, according to the U.S. Bureau of Labor Statistics.
Providence; Riverside, Calif.; New York City; Sacramento; and Buffalo had the worst job-creation scores, based on Gallup interviews from January to December 2011.
Energy companies in particular have been expanding their presence in Oklahoma City, according to the chamber's 2012 Greater Oklahoma City Economic Forecast. Continental Resources will move its headquarters and 255 employees to the city's downtown area from Enid, Okla., this year and create more than 450 new jobs in the next few years. Devon Energy will move into a 50-story, $750 million global headquarters downtown this summer. SandRidge Energy will finish expanding its downtown headquarters in 2014 and expects to employ 2,000 people within five years. And Chesapeake Energy is expanding its campus, which has boosted retail development in the northwest part of the city, too.
"The strong oil and gas sector was a significant contributor for metro area job growth in 2011," the forecast states. "The 1,500 jobs gained by the energy sector accounted for approximately 15 percent of total metro job gains for the year."
The city's aerospace industry has also been growing. Boeing, after announcing the relocation of 550 positions from Long Beach, Calif., in January announced it would also relocate nearly 900 positions to Oklahoma City from Wichita.
"People often think we only have a lot of oil companies, but in reality, we also have a strong bio and health-care sector," says Long. He adds: "A lot of outsiders don't know we have such a strong aerospace sector." The metro area is home to Tinker Air Force Base and the Mike Monroney Aeronautical Center (FAA), both major employers in the city and state.
A lot of hiring is also being done by small businesses, Long adds. Of the more than 77,000 standalone or headquartered businesses in metro Oklahoma City, 92 percent have fewer than 10 employees, according to YourEconomy.org.
Before it's here, it's on the Bloomberg Terminal.
LEARN MORE