Alvin and the Profits
More than 50 years after squeaking to the top of the charts, Alvin and the Chipmunks remains a billion-dollar family business
Robert Levine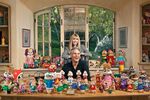 Chipmunks get into the darndest places. A few months ago, Ross Bagdasarian Jr. was vacationing in a remote part of Myanmar, reachable only by boat, when his tour guide asked what he did for a living. Since American movies and TV shows generally aren't legally available there, Bagdasarian began explaining that he owns Alvin and the Chipmunks, a music, media, and merchandise franchise based on mischievous rodents that sing pop hits in helium-high voices. As it turns out, he didn't need to explain. "She knew it!" he remembers with a laugh. "It's funny, because if you look at the breadth of this thing it's in 75 or 80 countries—and those are just the ones that do it lawfully."

The sun never sets on the Chipmunk Empire, which Bagdasarian says raked in a billion and a half dollars in revenue since Fox brought Alvin, Simon, and Theodore to the big screen in late 2007. His father created the trio in 1958, and their popularity has come in waves ever since. But Bagdasarian's deal with Fox has resulted in three hit films—Alvin and the Chipmunks, its 2009 Squeakquel, and last year's Chipwrecked—which collectively earned more than a billion dollars at the box office. The first two movies also sold more than 35 million copies on DVD worldwide and the third film's DVD came out on March 27. Bagdasarian declined to talk about his contract with Fox, but deals of this type usually give the owner of the franchise 5 percent to 10 percent of a film's adjusted gross revenue. Bagdasarian says Chipmunk tchotchkes brought in more than $100 million last year, and an exclusive clothing deal with Wal-Mart Stores tied to the Chipwrecked DVD could push that higher in 2012. All of which is more impressive when you consider that the Chipmunks is a family business, run from a 10,000-square-foot Montecito (Calif.) home chock full of Chipmunk memorabilia.
Of the cartoon characters big enough to make it to Myanmar—Mickey Mouse, Bugs Bunny, perhaps SpongeBob SquarePants—almost all are owned or controlled by one of the six major film studios. The Chipmunks is owned entirely by Bagdasarian, who inherited the rights from his father. (He bought out his brother and sister in 1996.) Since animated Chipmunks don't age, act inappropriately, or ask for raises, it's a lucrative business: Although he's tight-lipped about his exact take, he says that over the years "we're talking about hundreds of millions of dollars." Bagdasarian and his wife and business partner, Janice Karman, get a share of the movie profits and merchandising, and he owns the old cartoon series outright. His daughter helps run the merchandising business.
His father spurned buyout offers—including interest from Disney—because "he didn't want to be anyone's employee." Bagdasarian has the same tenacity and isn't afraid to face off against major media companies in court. He sued Universal Studios for the rights to his characters, settling a conflict he describes as a "custody battle." And he's now involved in litigation with Fox over Squeakquel profits and EMI music for old recording royalties. (Neither Fox nor EMI responded to requests for comment.)
Bagdasarian still takes a childlike delight in the easy appeal of his father's creations. "When people hear those voices, it's hard not to smile," he says. "Unless you're a movie critic." He pauses. "They hate everything we do. But they get in for free, so it hasn't hurt anything except our feelings."
For globetrotting pop stars, the Chipmunks have humble origins. In 1958, Ross Bagdasarian Sr., a songwriter, spent $190 of his last $200 on a state-of-the-art tape recorder that would let him vary playback speed. He used the machine to alter his voice and recorded Witch Doctor, a No. 1 novelty hit in which the titular character offers romantic advice that consists of high-pitched nonsense. In the fall he followed up with Christmas Don't Be Late, credited to "David Seville" and a fictitious group of Chipmunks who sang high-pitched harmonies. The song sold more than 4 million copies and became one of the few Christmas songs to hit No. 1 on the Billboard singles chart.
Within months, Bagdasarian had deals for a Chipmunk comic and television cartoon. A March 1959 Wall Street Journal story about the nascent franchise—complete with an Alvin hedcut—crowed that "Alvin Chipmunk Hopes to Earn Some $7 Million in 1959." The trend was so hot that "it might even be another Davy Crockett," a merchandise executive told the paper. The Chipmunks proved more adaptable, and Bagdasarian eventually released Around the World With The Chipmunks, The Chipmunks Sing the Beatles Hits, and even Chipmunks à Go-Go (with an appropriately groovy take on Mr. Tambourine Man).

When he was growing up, Ross Jr. never wanted to go into the family business. That changed when his dad died unexpectedly in 1972. "I didn't want this to die with him," Bagdasarian says. After finishing law school at Southwestern University—which he says gave him a background in the "mental martial arts" needed to navigate Hollywood—Bagdasarian met Karman, a B-movie actress. They married in 1980. Together, they tried to sell entertainment companies on bringing back the franchise, to no avail. Then, in 1980, they caught a lucky break when a Los Angeles DJ played Blondie's Call Me at a higher speed and joked that the resulting high-pitched vocals had been sung by the Chipmunks. "All of a sudden," Bagdasarian says, "the people we were talking to came running."
The album that followed, Chipmunk Punk, sold more than a million copies and spawned a revival that included Urban Chipmunk, animated specials, and yet more albums. Another cartoon, which ran on NBC from 1983 to 1990, introduced the Chipmunks to the next generation. The franchise was so popular that Bagdasarian says Michael Jackson used to call his office and ask him to do his inimitable yell of "Al-vin!"
Bagdasarian had big ambitions even then, and in 1996 he signed a wide-ranging agreement with Universal. But the Universal executive who championed the deal soon left, and the Chipmunks were consigned to direct-to-video productions. "Their feeling was that 'Ross and Janice have an inflated sense of the value of their franchise,' " Bagdasarian says. In 2000 he filed a $100 million lawsuit against Universal for failing to exploit his characters. He and Universal reached a settlement that returned all rights to him.

The idea of singing rodents in a film didn't exactly square with conventional thinking in Hollywood, especially after Universal had let the franchise lie fallow. "There was snickering in Hollywood that we were doing this movie," remembers 20th Century Fox Home Entertainment President Mike Dunn. Fox made the 2007 movie, which mixed CGI animation and live-action footage, for about $60 million. The soundtrack sold more than a million copies in the U.S., according to Nielsen SoundScan, and the Chipmunks won over audiences worldwide, with the notable exception of Japan.
Where do the Chipmunks go from here? Chipwrecked didn't do as well as the first two films, taking in $132 million in the U.S., compared with almost $220 million for Squeakquel, a result that Fox and Bagdasarian attribute to competition from other movies. Merchandise sales keep growing, however, and Bagdasarian is pitching a live stage show that could tour arenas.
Despite the Chipmunks' status as a family heirloom, Bagdasarian strives to keep sentimentality out of business decisions. "Janice and I are very particular," he says, noting that he once turned down a deal for a Chipmunk sugar cereal because it sent the wrong message. In terms of branding, "we look at Martha Stewart and Jimmy Buffett as role models." When he and Karman first took control of the franchise, Bagdasarian says, "we said we'll do this for a year and then do something else." He laughs. "I guess I missed that."
Before it's here, it's on the Bloomberg Terminal.
LEARN MORE