Yoga Gets Off the Mat to Fight New York's Tax Man
Yoga studios are up in arms about a new law that requires them to be taxed like fitness clubs
By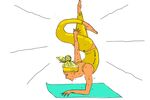 This past weekend, New York City's Kula Yoga Project sent out a cry for yoga studio owners and instructors to get off their mats and fight the tax man. "Our broke ass state is trying to squeeze money out of an industry that they see growing in these rough economic times. Namely … Yoga," reads a mass e-mail sent on March 29 by Kula's director, Schuyler Grant. "If their various extortion schemes are successful, a lot of small yoga studios are going to go out of business. And your yoga classes are going to go up. Maybe a lot."
Grant's plea is in reaction to New York City's decision that yoga studios be categorized as fitness centers, instead of movement spaces, and thus subject to a sales tax rate of 4.5 percent. (Dance studios aren't taxed.) The change isn't very new—it went on the books last April—but New York studio owners say they were never notified. That is, not until auditors started showing up in January and fining studios for back taxes for as much as three years.
"To do this without talking to us, and then to audit studios, we feel is deeply inappropriate," says Alison West, executive director of Yoga for New York, the lobby group that's spearheading a charge to reverse the legislation. "The tax itself would be passed on, unfortunately, to students, making their classes more expensive—but the back taxes, which could add up to hundreds of thousands of dollars, could actually bankrupt a studio because it's money that would have to come out of its very unlined pockets," she adds.
Ed Walsh, a spokesman for New York State's Department of Taxation and Finance, says the new tax requirement is only fair. "Yoga is included in a business model that falls under 'weight control salon' and 'health salon' categories that are part of the sales tax statute, as it applies to New York City," he commented via e-mail. "Businesses that provide similar services should be subject to the same taxes."
New York City's yoga studios insist they are not gyms (never mind all those body-obsessed, Lululemon-clad Americans sweating away on their mats). "We offer classes in meditation, breathing, chanting, Yantra painting, and the city would be setting a precedent for taxing those sorts of classes, as well," says West, who suspects New York City imposed the tax simply because it's looking for new revenue flows during these tough times. A 2008 study by Yoga Journal found that Americans spend $5.7 billion a year on yoga classes and products, including equipment, clothing, vacations, and media.
New York isn't just levying taxes on yoga studios. The state's Department of Labor also wants yoga instructors classified as employees rather than independent contractors, a difficult change to implement since most instructors teach their specialties at several studios. "Consider this," says West. "If a teacher teaches at five different studios, that means that whatever the insurance company is, it would be making off with five times that amount of money for just one teacher. There's something wrong with this picture."
To top it off, New York City is going after studios like Kula, insisting they obtain special Physical Culture Establishment permits—a process that can cost up to $30,000. "Yoga studios can't afford that, nor is it clear why we need it," says Kula's owner, Nikki Vilella, who put her life savings into founding the studio and now worries that the state's requirements will sink her. "There seems to be this myth that yoga studios are raking in big dollars when we aren't."
Now, Kula and other New York studios are banding together to raise awareness of their plight through petitions and benefit classes. Grant's e-mail sums up the challenges they face: "[The state's actions have meant] burdensome lawyers fees, penalties, back-tax bills and other administrative costs which are threatening the vitality of many studios in our city. (Not to mention throwing Nikki's psoas muscle into massive spasm—NOT COOL!)"
Before it's here, it's on the Bloomberg Terminal.
LEARN MORE