IBM and the Misogyny of the Masters
Bruce Weinstein, PhD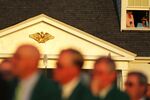 Imagine you're about to enter a restaurant you've heard good things about, but a sign stops you dead in your tracks. "No dogs or Irish." You decide to take your business elsewhere, so you head over to a competitor across the street. There you encounter a different but equally off-putting notice: "Colored entrance in rear." Fed up, but not yet fed, you walk briskly to a third eatery, but a bright green neon sign makes you do a double take: "Men only."
All three scenarios have been a part of our past, but the third scenario isn't to be found only in history books; it's the current policy of the Augusta National Golf Club, the host of the Masters tournament that begins on April 5. No ethically intelligent person would tolerate open discrimination against the Irish, African Americans, or Jews, but apparently it's acceptable among some members of the gentility to bar women from participating in the sport at their club.
The golf course remains one of the most valuable places to network, so clubs that don't admit women are in effect preventing them from participating in this essential element of business life.
Traditionally, IBM chief executive officers have been invited to join Augusta. What's ironic in this case is that the new CEO of one of the tournament's sponsors, IBM, is Virginia Rometty. This means that the person signing one of the big checks that make the tournament possible could not herself join the club where the event is taking place!
Irony aside, IBM's and Rometty's steadfast "no comment" on this issue is troubling because of the wrong message it sends. Sorry, but this issue doesn't require a lot of debate. The policy is unethical, and Rometty's company should withdraw from participation until the club reverses its history of discrimination and admits women to its ranks. Why is IBM, a company with a strong ethical culture, silent on this issue?
Rometty is among America's leading businesswomen. She, along with other powerful executives (male and female alike), should be leading the call for a change in Augusta's policy against admitting women. It's not too late to do the right thing.
Before it's here, it's on the Bloomberg Terminal.
LEARN MORE