Burger King Returns to the Market: Flip, Rinse, Repeat
by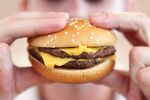 Burger King's recent history of new ownership, sale, new ownership, sale has that patty-flipping metaphor stamped all over it. Now, merely 18 months after the venerable Home of the Whopper was sold to buyout shop 3G Capital, it is again returning to a stock market listing by taking over the ticker of Justice Holdings, a special purpose acquisition company owned by famed activist investor William Ackman.
Financed by a gaggle of Brazilian billionaires, 3G will get $1.4 billion in cash to transfer Burger King to Ackman's Justice Holdings, which will own 29 percent of the chain. Burger King's entire equity value will be about $4.8 billion, and the buyout shop will hold on to a 71 percent stake. There are more than 12,500 Burger Kings around the planet—90 percent of which are franchised.
The brand is struggling; what else is new? McDonald's and Yum, the parent of China-dominating KFC, are taking share; for the first time in the history of the burger wars, the golden arches controls more than half the category. Wendy's, which in recent years has lost its way, has passed BK as North America's second-largest fast-food burger chain. And don't even get into the onslaught of $5 footlongs and Chipotle's category-killing, chinchilla-size burritos. Please, señor: Let your eyes feast on this chart. Meanwhile, a revived Dunkin' Donuts is hawking health food.
"We agree with management that the Burger King brand is still at an early stage of its true potential and believe that over the next three to five years the U.S. turnaround and international growth franchise model can lead to significant margin expansion and free cash flow," Justice co-founder Martin E. Franklin said in a statement.
Already, Burger King's earnings before interest, taxes, amortization, and depreciation less capex have popped from $320 million in 2010, before 3G took over, to $503 million last year.  But the chain's core North American same-store sales slumped 3.4 percent in 2011.
Burger King started in Miami in 1954 as Insta Burger King, a joint known for its 18¢ fire-grilled hamburgers and 18¢ milkshakes. In 1967, Pillsbury bought the 274-store chain for a mere $18 million. Diageo bought out Pillsbury in 1988—and held it for 12 largely unsuccessful years before announcing its desire to spin it off. Here's a young Sarah Michelle Gellar and her burger war fightin' words in 1981. A year later, Meg Ryan made this contribution to BK's storied ad canon.
Ten years ago, Texas Pacific Group, Bain Capital, and Goldman Sachs Capital Partners bought Burger King for $1.5 billion from liquor conglomerate Diageo. They took it public in 2006. It floundered and went private in 2010.
Now Burger King, which announced a new menu on April 2, is adorning its stores with corrugated metal, brick, wood, and concrete and pushing salads, smoothies, and chicken snack wraps. Gone are the chain's dancing chicken and freaky sideline-dancing King mascot.
Is this brand—seemingly always a work in progress—at all ready to return to the public market?
"It seems a little quick," says Peter Saleh, an analyst at Telsey Advisory Group in New York. Owner 3G hasn't "changed all that much in a year and a half," and a lot of the restaurants are in need of remodeling, he says.
The better question to ask is, what has BK's constant change-in-control saga bolstered, other than the gains of buyout shops and bankers?
Before it's here, it's on the Bloomberg Terminal.
LEARN MORE